Posted on
Koon Recognized at GVC Annual Meeting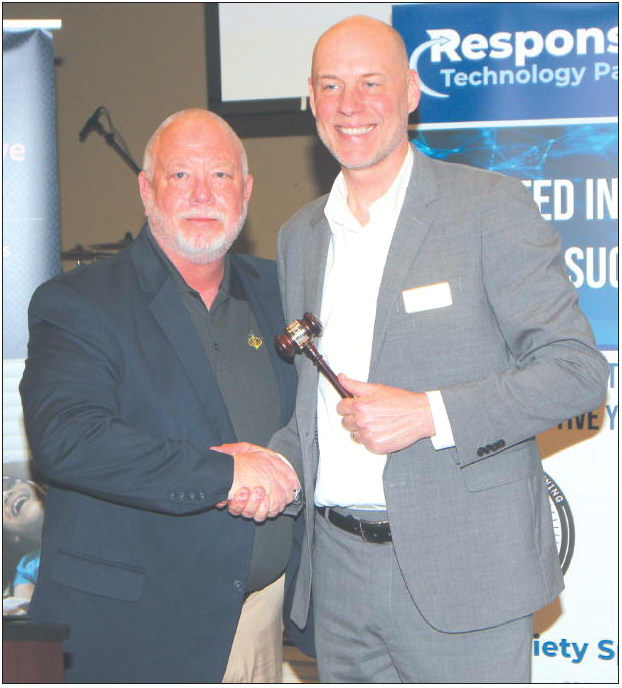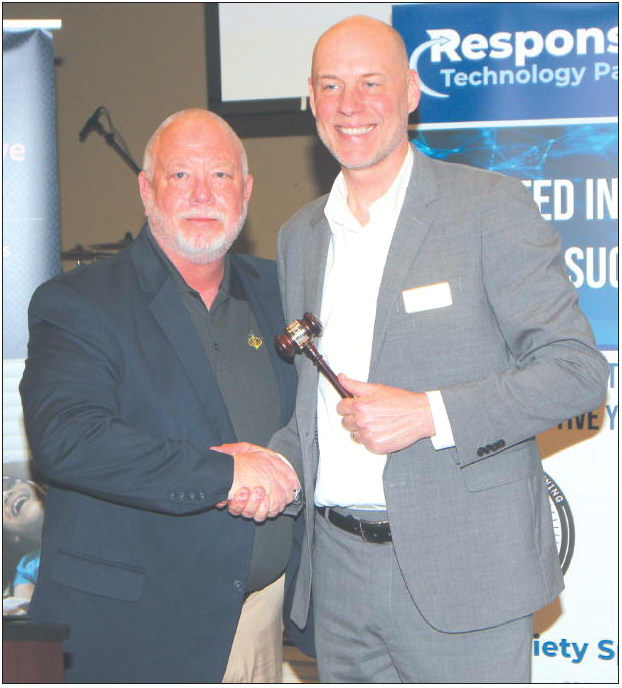 John Koon, 2022 Greater Vidalia Chamber (GVC) Chairman, was recognized for his dedication to the group at the annual meeting on Friday, February 3.
The outgoing chairman was acknowledged during the business portion of the event as he addressed the crowd with his farewell. "My time with the Board ends tonight, and it is a bittersweet moment to say the least," he remarked. "This past Chamber year has been a good year. This year has been an enormous success that has been made possible because of people like you — members who not only joined and financially supported this outstanding organization, but people who have become involved in a deeper and more meaningful way. You have invested in the Greater Vidalia Chamber with not only your finances but also your time."
He continued, "Most importantly, you bought into what the Greater Vidalia Chamber is: a great organization that prepares, develops, and promotes our businesses in our community for economic growth."
Koon highlighted the successes of the past year, explaining that the GVC had gained 72 new members, which brings its continued from page
current membership to over 500 for the first time in the organization's history. This was made possible because of the 86% retention rate of members. The group conducted 22 ribbon cuttings and a single groundbreaking and has ensured that $40,000 stays within local businesses through the Community Bucks program. Record attendance and revenue was accomplished throughout 7 signature events, and the REACH program garnered over $200,000 for the first time in history.
"All of this is not possible without each one of you," he emphasized. "This doesn't happen without a group of dedicated individuals that ensure the day-to-day operations at the Greater Vidalia Chamber are taken care of. Our staff is not only the best staff we could assemble, but they are a group of hyper-dedicated individuals who work together as a team."
He ended his address with a final reflection. "When I was asked two years ago if I would consider a second term as the Chamber Chairman, I told them I had to think about it, but in realization, I had already made up my mind and was honored to be asked to lead this organization for that second time. I believe in the vision and mission of this great organization. I have never considered it to be anything short of an honor and a privilege to be the Chairman of this great organization, and I will take this with me for the rest of my life."
The gavel was then ceremoniously passed to 2023 GVC Chairman Mike Hagan, who began his official term as Chairman by inviting State Representative Leesa Hagan and State Senator Blake Tillery to present Koon with a proclamation from the Georgia State Legislature.
"Thank you for showing us how to serve our community," Tillery told Koon. "This is a proclamation from the state legislature. I know you have seen one of these, but I don't think you've ever had your name on it. This is recognizing you for not only what you did growing up in Treutlen County, but also what you did as a Peace officer, what you've done over 42 years of (radio) broadcasts, what you've done in your investment in youth in our communities, and also what you've done – while you may have been born in Treutlen County – to have clearly became the voice of the Greater Vidalia Chamber."
Chairman Hagan then continued to thank Koon for his work, and wished him the best throughout his future endeavors.
Retiring Board Members
Koon also recognized the outgoing board members of the GVC, who have finished their current term of service with the Chamber. He shared notes of admiration for each individual when presenting them with their commemorative plaque.
He thanked Realtor Sara Brown for her time given to the Chamber and complimented her on her success within the community. "One of the great young businesspeople that we have here in the area [is Sara Brown]," he told the group. "She has served very well, done a whole lot, and really bought in to the mission of the Chamber. You are going to hear more about this young lady and her business throughout the future."
J.R. Trippe Middle School Assistant Principal Michael Johnson was also thanked for his service to the Board. "He is young, but he is truly a gentleman. He is one of the greatest assets we have in the Vidalia City School System," Koon said. "We are honored to not only have him in our local school system, but are also very grateful for all he has done with the Chamber."
Koon added, "We do a lot of ribbon cuttings, and one of our challenges to every board member is to make sure that they made it to 75-80% of these events. I don't think I went to a single ribbon cutting or an event that Jensie Smith was not there." He went on to compliment the outgoing Board member for her enthusiasm for the community, and shared that he believed she will be a driving force within the area. Koon especially thanked Mount Vernon Bank CEO/President Alan Thigpen, who helped get him involved in the Chamber Board several years ago. "He called me up one day and asked me if I would serve on the Chamber Board with him. I told him I didn't know if it was a smart thing to have us on the same board at the same time, [because] they would not know what hit them. But we did, and to tell you the truth, they haven't recovered yet," he emphasized with a laugh.
Outgoing Board Members Britt McDade and Trent Williams were also recognized for their time with the Chamber, though McDade was unable to attend because of a prior engagement and Williams was absent because of an illness in the family.
Current Board
The 2023 GVC Board members were announced and are Chair-Elect Stephanie Williams, Executive Advisory Member Pat Dixon, President Michele Johnson, Wendi Cason, Allen Crump, Mary Edmonds, Monroe Goss, Aries Haygood, Donya Hilton- Wood, Heather Mead, Nissa Mitchell, Ivette Torres, and Sabrina Woodruff.
Hagan told the attendees that he had given the new Board members three challenges: to keep the big picture in mind, to represent their area of expertise well, and to be an ambassador for the Chamber and the community.
"They're a strong Board – one of the strongest I've served with – and I'm very proud to work with them for the good of the Chamber and of the community," he concluded.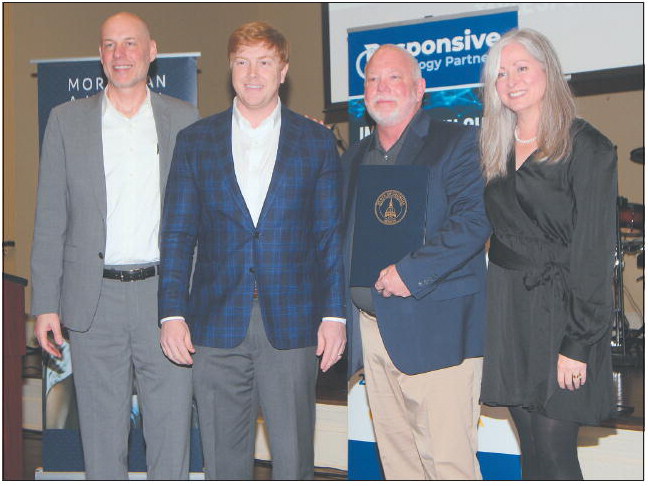 STATE PROCLAMATION – Retiring 2022 Greater Vidalia Chamber Chairman John Koon was presented with a proclamation from the state legislature in recognition of his service to the Chamber and community throughout the years. L to R: Mike Hagan, Senator Blake Tillery, John Koon, State Representative Leesa Hagan.Photo by Makaylee Randolph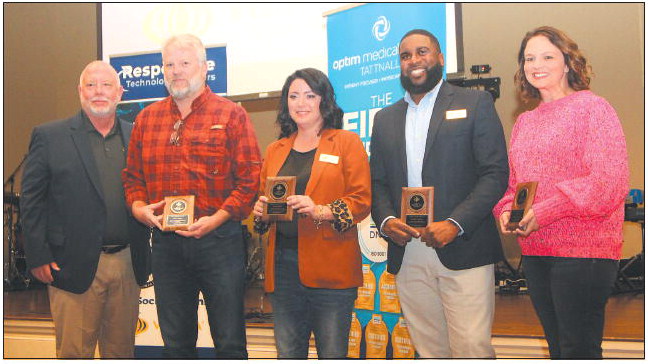 RETIRING BOARD MEMBERS – Koon recognized each of the retiring Board members for their individual contributions to the community, and personally thanked them for the time and leadership which they had given to the organization. L to R: John Koon, Alan Thigpen, Jensie Smith, Michael Johnson, Sara Brown. Not pictured: Britt McDade, Trent Williams.Photo by Makaylee Randolph