Posted on
STAR Students Recognized in Ceremony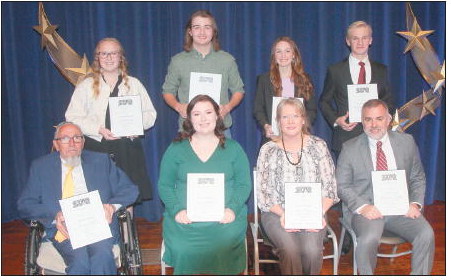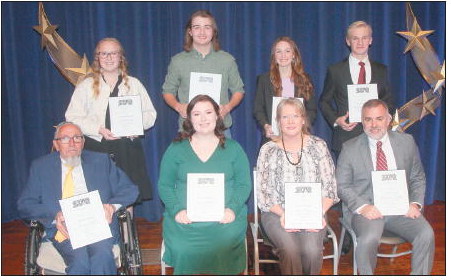 The Kiwanis Club of Vidalia invited the area's STAR Student and Teacher award recipients to a formal ceremony on Tuesday, January 24, to receive their awards.
Each school's STAR Student is recognized based on the student's SAT score, as the honor commemorates the highest SAT score within the Top 10 Students of each class. These awardees then select a STAR Teacher to recognize those who invested most in their academic careers.
Montgomery County High School STAR Student
Montgomery County High School (MCHS) STAR Student Braden Hardeman, son of Bo and Terra Hardeman, has grown throughout his four years at the school, and even currently serves as the Vice President of the BETA Club. He plans to pursue continued from page
a degree in medicine after graduating, and will be studying at Mercer University.
"I feel very honored and thankful [to receive this award], he shared. "I'm thankful to my parents for pushing me to be the best I can, and to Ms. [Kerri] Anderson for helping guide me in my high school career."
When asked if he had any advice for other high school students, Hardeman gave a word of encouragement. "Keep trying, and everything will fall into place eventually.
STAR Teacher
MCHS STAR Teacher Kerri Anderson began her teaching career 6 years ago, but has since spent 4 years teaching high school math at the school, all 4 of which she taught Hardeman. She has had an eventful year this school year, as she has also won the MCHS Teacher of the Year and Montgomery County Schools District Teacher of the Year.
"Ms. Anderson has taught me since I was a freshman, and is in my opinion one of the best teachers I've ever had," Hardeman commented.
"When Braden first came into my classroom, I immediately knew he was a special student and was going to do great things," Anderson remarked. "When he was in 11th grade, I felt like he spent more time in my classroom than anywhere else. He stayed in my room during his third block and would help tutor my freshmen students."
She continued, "He is a role model to every student at MCHS; they look up to him, they strive to achieve what he has achieved, and he has made an impact on every single student he has come in contact with. It is an honor to be named as Braden's STAR Teacher."
Robert Toombs Christian Academy STAR Student
Robert Toombs Christian Academy (RTCA) STAR Student Kate Kennedy, daughter of Michael and Carrie Kennedy, has attended RTCA for most of her academic career, and has been very active through extracurricular activities. She plans on attending Clemson University after graduation to pursue a career in Agriculture Mechanization and Business.
She shared her gratitude for her friends, family, and STAR Teacher Thomas Barfield.
STAR Teacher
RTCA STAR Teacher Thomas Barfield has taught for several decades throughout a variety of schools, but currently serves as a math teacher for the school's middle grades.
"I chose Mr. Barfield because he was the very first teacher I had in middle school. He had taught my mama, so I had heard tons of stories about him. Going in there, I was kind of scared – he was a math teacher and everyone thinks math is scary. But getting in there, he made math so much fun, so enjoyable, and even to this day, if you're having a bad day and need someone to talk to, you're able to go over to Mr. Barfield's room and he'll cheer you up completely," Kennedy explained.
"It has been an honor to teach Kate – she is a wonderful student who be greatly successful throughout her future," Barfield remarked.
Toombs County High School
STAR Student
Toombs County High School (TCHS) STAR Student Allison Waller, daughter of Barry and Angie Waller, has spent her entire educational career at Toombs County schools and has become well-known as she has participated in Beta Club and Game Day Cheerleading. She plans to attend Mercer University after graduation to pursue a degree in the medical field.
"I am honored to receive the STAR student award and so grateful for the many people who have impacted me and encouraged me along the way to receiving this award," Waller remarked. "I would like to thank my parents and family for encouraging, supporting, and believing in me throughout school!" When asked her advice for younger high school students, she said, "My advice to high school students is to stay focused on your goals and never give up on achieving them!"
STAR Teacher
Dana Manning is no stranger to the STAR Teacher award, as she was also nominated for the award last year by 2022 TCHS STAR Student Danny Brad Carter. Manning is known widely throughout Toombs and Tattnall Counties, as she began teaching in 1991 at Tattnall County High School, and has taught in the Toombs County School System since 1996. Currently, Manning teaches chemistry to sophomores and Human Anatomy and Physiology to seniors.
Waller has had many years to get to know Manning, as she was in Manning's class for her eighth and tenth grade years, and has returned to Manning's instruction for one final class this year. "I chose Ms. Manning because she works very hard to challenge her students and prepare them for their next steps in life," Waller explained.
To be chosen as the STAR Teacher by Waller is an honor, according to Manning, who spoke on the sentiment of the award. "To have a student name you when they have had so many good teachers is very humbling," she explained. "I pray that I will always be able to give students a challenging class to make them better than ever before. Thank you to everyone involved in this effort to recognize and celebrate talents of our wonderful students in all of Georgia."
When asked about her experience having Waller as a student, Manning highlighted Waller's work ethic and precision, saying she rarely turned in work that was not as close to perfection as possible. "She is so deserving of recognition for not only this achievement but many academic and extracurricular achievements," Manning shared. "I am honored I was able to have her in my classes and experience such a remarkable, dependable, faithful, intelligent student."
Vidalia High School
STAR Student
Vidalia High School (VHS) STAR Student Seth MacGregor, son of Marca and Scott MacGregor has made a name for himself over his past two years at the school, as he has participated in Cross Country, Track, BETA Club, National Honor Society, and SkillsUSA. After graduation, he plans to attend the United States Naval Academy and earn a degree in ocean engineering.
"I feel highly honored and blessed to be supported by so many people who have pushed me to make it to this point," he commented. "I would like to thank my parents for the effort that they put in to enable me to go far; especially my mother for homeschooling me for the majority of my education."
When asked if he had any advice for underclassmen, his thoughts were simple. "Seize the day!" he emphasized. "Do the stuff that matters, do it well, and don't let any distractions get in the way."
STAR Teacher
VHS Construction Teacher Grey Meredith was selected by Mac-Gregor as the STAR Teacher award recipient for the school. Meredith has taught construction for all grades in the high school for three years, all of which were at VHS. He began teaching MacGregor last year, and quickly noticed the potential of the young student. "I am not surprised at all [that Seth earned the award], he remarked. "Seth is a fine young man with a very bright future. His maturity and work ethic are unmatched."
MacGregor also shared kind words for the instructor, saying he selected Meredith as the VHS STAR Teacher because of his impact on MacGregor personally. "I chose Mr. Meredith as my STAR Teacher because of the example that he sets every day in the classroom, and the inspiration he has been to me during high school," he said.
Meredith was elated to receive the STAR Teacher award, as he has never received or expected any major awards because of the subject he teaches. "I am honored to be chosen by Seth MacGregor as STAR Teacher. It is not something I expected, especially as a Construction teacher," he said. "There are certainly days when I do not feel like a STAR teacher, but I strive every day to prepare our students for either the work force or to further their education beyond high school."
He added, "I appreciate being chosen by Seth, and I am thankful to Vidalia City Schools for the opportunity to teach students like him."
Vidalia Heritage Academy STAR Student
Vidalia Heritage Academy (VHA) STAR Student Julia Beacham, daughter of Marty and Shae Beacham, has attended the school for the entirety of her academic career, and has become very involved with the school's extracurricular activities, as she has been a part of the One Act Play, Visual Arts Competition, Harvard Model Congress, National Honor Society, and Track & Field team. After graduation, Beacham plans to attend the Armstrong Campus of Georgia Southern University to pursue a degree in Medical Lab Sciences. She hopes to later become a Georgia Bureau of Investigation (GBI) Forensic Lab Technician.
I feel incredibly honored [to be the VHA STAR Student] but also validated for all the hard work I've put in," she explained. "I would like to thank all of my friends and family for supporting me, but I would like to especially thank my best friend Emily Jarriel for always pushing me to be better and to try harder." When asked for her advice for other high school students, Beacham shared a reminder to continue to push through hard things. "Never quit when things become more difficult than what they once were; you'll never get anywhere with that mindset and just be stuck in one place for the rest of your life. Sometimes, the hardest part of a journey is deciding to take that first step," she emphasized.
STAR Teacher
Having taught for 16 years at several schools, such as Tattnall County High School, Baxley Wilderness Institute, Fox Valley Christian Academy, Suncoast Polytechnical High School, Tifton High School, and currently, Vidalia Heritage Academy, Cathy Johnson has a multitude of experience that helps her daily, as she teaches 11th Grade AP Biology and 12th Grade Forensic Sciences.
"I chose Mrs. Johnson for many reasons but mainly because she is a source of encouragement in my life," Beacham remarked. "She is a spiritual leader and encourages me in my faith. She has always supported and helped me in achieving my goals for college and future career. She encourages me in my hobbies, such as art and acting, and teaches me in ways that I can improve. Mrs. Johnson is a light in my life and I appreciate her so much."
Johnson was honored to be selected by Beacham as the VHA STAR Teacher, as she has never before received this type of award. "I am humbled to have been chosen. Julia has had numerous amazing teachers while here at VHA, many of whom I always felt were of the highest caliber. To have been chosen as the most meaningful to her is such an honor," she remarked. "Many of the things she spoke about to me at our awards ceremony were unexpected. I had not realized that I had impacted her life to that extent."
When asked about her experience of having Beacham as a student, Johnson praised Beacham for both her academic drive and kind personality. "Academically, Julia is a hard worker, she listens, takes notes, studies, and always does her best. She doesn't back down from challenges that require her to think and problem solve," she explained. "Aside from Academic success, Julia is a bubbly being, full of humor and has an adorable laugh. She is creative and artistic, winning awards in both art and acting. She faithfully plays the piano every week for chapel and serves her community through the Greater Vidalia Chamber of Commerce. Julia is mission-minded and is always eager to help others in need."
Johnson continued to praise Beacham for the impact she had on her teacher. "On a personal note, Julia has been a steady source of encouragement to me. Sometimes I get stressed, over tired, or consumed with worry about some things. She is there to hug me, and say encouraging words that lift my spirit and help me continue on," she emphasized. "She also is kind on days when I don't quite have everything together and gives me the grace I need to be imperfect for that day. I value her input when I ask what they want to learn next in AP Bio or Forensics. It also blesses me that she comes to me for advice, lets me help with her art projects, or otherwise invites me to be a part of her life. I look forward to seeing what she does in the future and I am so thankful that I have had the opportunity to not only teach her, but also to be taught by her."
Johnson added, "I try to love my students well, meaning I treat them like they are my real children. I build relationships with them; celebrating accomplishments, crying through struggles, praying with them and over them, attending performances and ball games, and sharing meals with them. I do life with them. My growing up years were hard and I struggled a lot. This has made me want to help my students to stay encouraged and pushed toward greatness both academically and personally."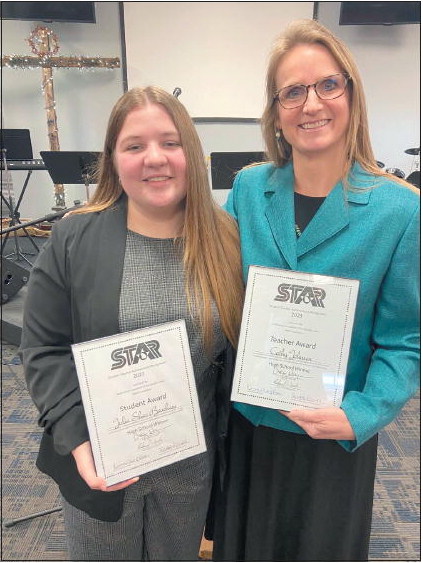 VHA STARS – Vidalia Heritage Academy (VHA) STAR Student Julia Beacham and STAR Teacher Cathy Johnson were unable to attend the area ceremony but celebrated the achievement through a later ceremony at the school.Photo by Makaylee Randolph