Posted on
Suspect in Two Armed Robberies Apprehended After Traffic Stop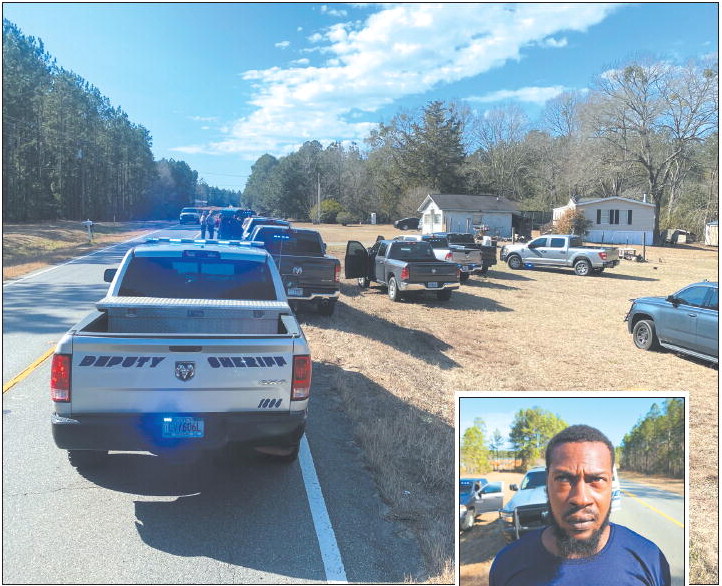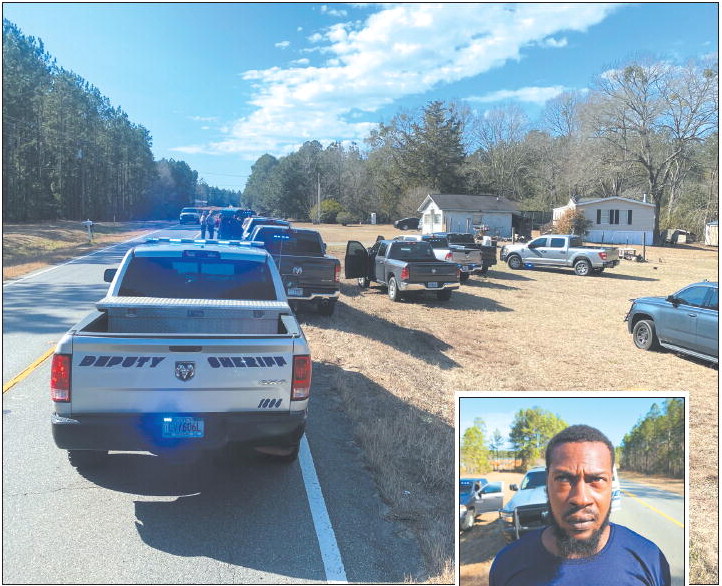 A man suspected of committing two armed robberies last week was taken into custody after a Toombs County Sheriff's Deputy, Captain Jordan Kight, and Sheriff Alvie Kight, Jr., recognized him during a traffic stop.
The Toombs County 911 Dispatch received a call at 11:39 a.m. on January 17 reporting an armed robbery at the Open Air Market convenience store in Lyons. The caller said that a black male had come into the store with a gun and robbed the clerk of cash. The clerk was unharmed. The Lyons Police Department quickly arrived on scene and issued a be-on-thelookout (BOLO) order for a white Chrysler 200 being driven by the suspect.
Less than 20 minutes later, at 11:53 a.m., the Toombs County 911 Dispatch received another report of an armed robbery, but this time at a Normantown convenience store, which is located at the intersection of Old Normantown Road and New Nor­continued from page
mantown Road. The store clerk shared a description of the suspect and event that was almost identical to the incident at the Open Air Market: a black male had entered the store with a gun and robbed the clerk of cash, but left the clerk unharmed. That same white Chrysler left the Normantown store headed to Vidalia.
As deputies responded to the incident, TCSO Lieutenant Wendell Beasley made contact with the suspect's vehicle traveling west on Georgia Highway 130 East. Lieutenant Beasley conducted a traffic stop as other deputies arrived, and soon, he, Captain Kight, and Sheriff Kight took the individual into custody. The suspect was identified as Kenny Battle, 40, of Vidalia, whom Toombs County and Lyons Police Department Investigators agreed was the suspect in both robberies. Inside of Battle's vehicle, Toombs County Investigators found a loaded black Glock pistol, cash, and clothing items described by the clerks as being worn by the suspect. Deputies also discovered that Battle had used white caulk to alter one of the letters on the tag of the Chrysler in an attempt to conceal the identity of the vehicle.
Battle was transported to the Toombs County Detention Center where he is facing charges of armed robbery and multiple other felony charges. These cases are still evolving, as both agencies continue their investigations of the incidents. The Toombs County Sheriff's Office attributed the speedy capture of the suspect to the Lyons Police Department's quick response to gain and release vital information and the Toombs County deputies' quick response in locating Battle.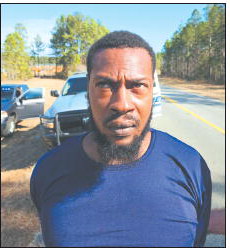 Kenny Battle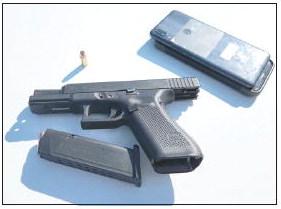 ARMED AND DANGEROUS – Upon capturing Battle, law enforcement officials found a loaded Glock pistol, which was used to intimidate convenience store clerks to give the robber cash.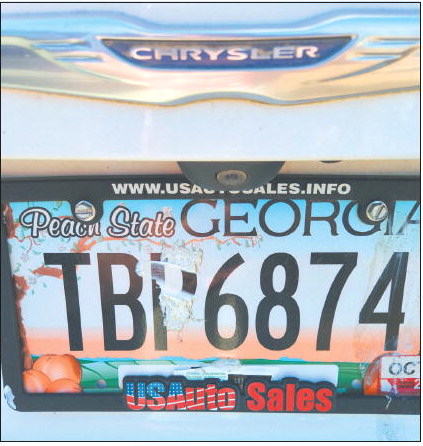 EVADING POLICE – Battle used white caulk to attempt to conceal his tag while completing his crimes after the Lyons Police Department issued a Be-On-The-Lookout (BOLO) order for his vehicle.