Posted on
Chesser Named Sweet Onion Citizen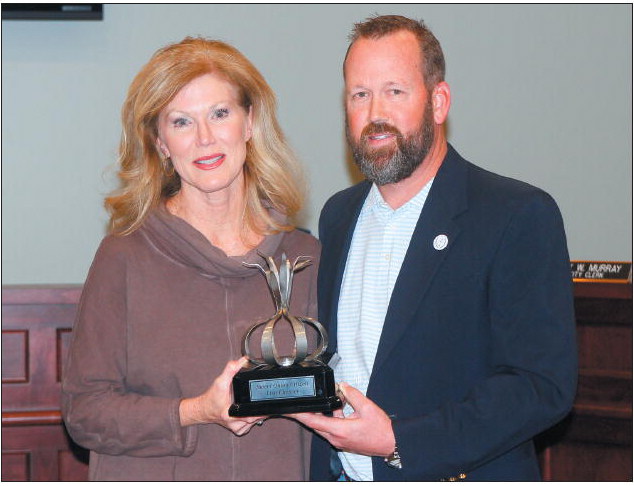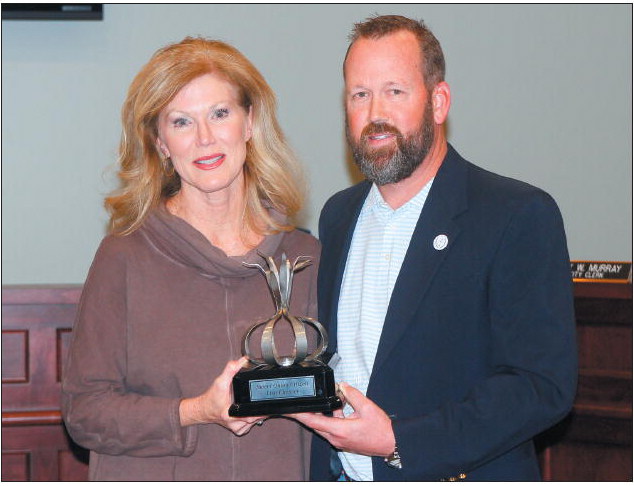 Former City Councilwoman and current Sweet Onion Golf Authority Secretary Lisa Chesser was recognized as the December Sweet Onion Citizen at the Vidalia City Council meeting on Monday, December 12.
The Sweet Onion Citizen Award became a monthly award for standout citizens in Vidalia around two years ago; it serves as recognition of an individual's heart for service.
"You really want to get this [award] right in December, when you think about how Christ set the example of how we are to serve our fellow man. Tonight, I believe we will be able to recognize someone that truly has a heart for our community and has served our community for a long time," Mayor Doug Roper remarked.
Along with having served three terms on the Vidalia City Council and acting currently as the Sweet Onion Golf Authority Secretary, Chesser is also a board member of the Toombs County Library Board of Trustees. She is also continued from page
active in her church, Vidalia Cornerstone Church, as she chairs the Staff Pastoral Relations, Missions, and Finance Committees.
State Champion Recognition The Vidalia Recreation Department 8U All-Star Soccer Team was also recognized at the meeting, as the team recently became the first VRD soccer team to win a state championship.
The boys traveled to Madison County on December 2-3 to compete in the Co-Ed State Soccer Tournament, where they defeated Madison County 3-1 in the championship game.
Roper spoke to the young athletes on this accomplishment. "Championships are extremely hard to come by – you ask anyone who has played sports on any level, from 8U up to the big leagues, championships are just hard to come by, so there is something to be celebrated no matter if and when you win one."
"I hope that this is the seed that is planted for future generations of kids to win titles [in Vidalia]," he continued. "There always has to be a first, so that definitely makes it special."
He concluded, "What I hope you learn along the way is: it is a team sport. Not one guy can win that championship [alone]. So, any time you get to put that V on your chest, you get to represent something bigger than yourself. You're not just representing your or your family – you're representing the entire community of Vidalia. That's a big task to carry, but you guys evidently did it well."
Action Items Streets A list of guidelines were approved by Council for the City Street and Sanitation Committee to used when reviewing requests for placement or removal of stop signs. City Manager Nick Overstreet said that he hopes these guidelines help to eliminate the mass number of requests which the committee has to sort through on a monthly basis.
City Council members approved the removal of the stop sign at the intersection of Church Street and Gwendolyn Drive, which had previously been a three-way stop. Several citizens had contacted the continued from page
City about the area, and it was discussed whether Church Street and Lewis Drive would be a better solution, if there should be an additional location, or removal of stop signs at the current location.
A stop sign will be added to the intersection of Slayton Street, Aimwell Road, and Waters Drive to make the area a 4-way stop. Vidalia Police Chief James Jermon said that he believes this will benefit the safety of the location, which is adjacent to Sally D. Meadows Elementary School and usually has children and heavy foot traffic. A stop sign request for a stop sign at the intersection of Church Street and Lewis Drive will be further reviewed by the Street and Sanitation Committee using the newly approved guidelines and criteria.
Budget
Third quarter budget amendments were made to the Recreation Fund, Water and Sewer Fund, and General Fund to provide exact documentation of the revenues and expenditures from 2022 to this point. A separate Special Revenue Fund was created for the American Rescue Plan Act (ARPA) funding to fulfill a requirement by the federal government.
Airport Layout Plan
City Council members approved the agreement between GDOT and the city of Vidalia for the airport engineering design and planning assistance during the development of the Airport Layout Plan, which must be completed every decade. This contract will cost a total of $295,950; but, because of the division of payment – 90% Federal Funding, 5% State Funding, 5% Local Match Funding – the City will only spend $14,797.50 on the agreement. This cost will be paid through the Airport Fund.
Passero Engineering will also be paid for the engineering design and bid services for the Airport Layout Plan. These services total $62,150, which will be funded through the Airport Fund.
TIA
The Transportation Investment Act (TIA) of 2010 was renewed through the approval of the project agreement between the Georgia Department of Transportation (GDOT) and the city of Vidalia. This agreement helps to improve roadways throughout the city.
Recreation
Council approved the payment of $6,280 to Coastal Sports Turf, LLC. for the repair of irrigation systems at the athletic fields at Ed Smith Complex. This will be funded through Special Local Option Sales Tax (SPLOST).
The Sweet Onion Golf Authority was approved to process payments to McWhorter Creative, LLC for branding and marketing, and account set-up for Quickbooks. The branding and creative services will total $4,000 for the complete project, but only $2,000 is due at this time. The Authority has also been given a budget of $500 for Quickbooks set up and to order checks. This will be funded through outdoor recreation monies.
Licenses
The Budget Inn's business license was reinstated after the establishment complied with the necessary guidelines of operation. The hotel's license was previously revoked in November for failure to comply with city standards, and the administration advised the owner that the license would be reinstated upon compliance. The establishment has returned to business as usual.
Alcohol Beverage Licenses, Taxi Licenses, and Coin-Operated License Renewals were approved by Council.
Zoning
The Council approved the denial of a zoning request by Chris Johnson to rezone 1007 Mount Vernon Road from a residential zone to a commercial zone for the creation of an event venue for local events and weddings. The City's planning and zoning board denied this request before sending it to the City Council for further decision.
A zoning request by Lee O'Connor to rezone 301-307 Green Street from Office/Residential to Commercial zoning was returned back to the city's planning and zoning board, who previously made no decision on the request. The City asked the Board to review the request and make a further recommendation.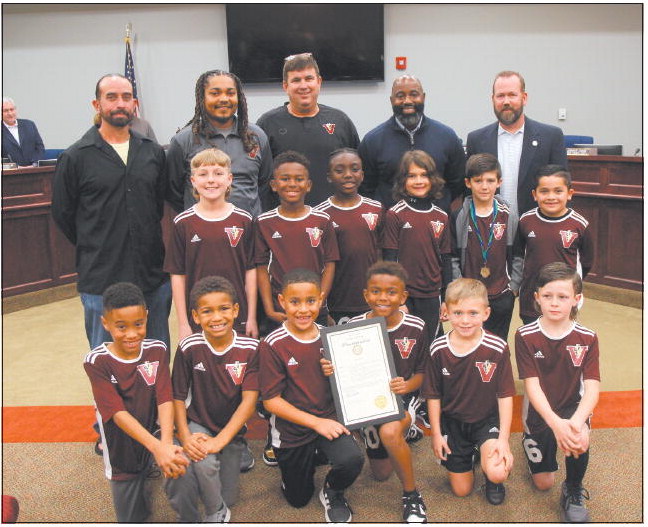 FIRST VRD SOCCER STATE CHAMPS – The 8U Vidalia Recreation Department (VRD) All-Star Soccer Team was recognized during the meeting for their state championship victory, which marked the first soccer state championship ever for the VRD. Front Row, L to R: Brody Boston, Freddy Fondren, Blaze Boston, Karson Tanner, Gabriel Strickland, Bryson Taylor. Middle Row, L to R: Solomon Johnson, Jaxson Snead, Landon Brownlee, Levi Caraballo, Brock Page, Jese Cervantes. Back Row, L to R: Coach Justin Russell, Coach Fred Fondren, Recreation Director Scott Strickland, Coach Brandon Boston, Mayor Doug Roper.Photo by Makaylee Randolph