Posted on
Local Doctor: Ukrainians Persevere Amid Growing Sense of Nationalism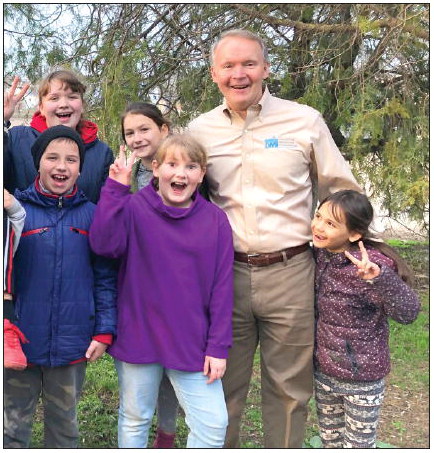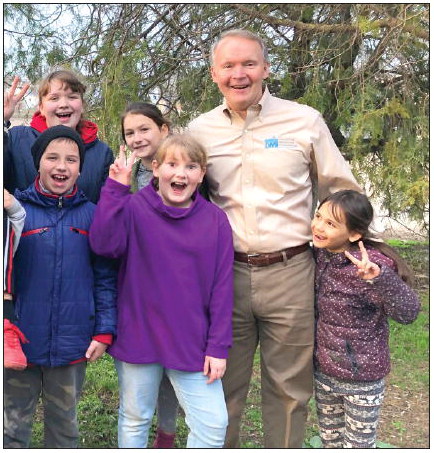 Just last week Vidalia physician Geoff Conner returned from a mission trip to war-torn Ukraine where he saw first-hand how the people there are defiantly holding on and continuing to repel invading Russian troops.
It was Conner's second mission this year to the beleaguered country, and his "fifteenth or sixteenth visit" there since 2004 as a representative of Discipling Ministries International.
Conner, the Reverend Pat Mc-Coy from Fayetteville, and the Reverend Dean Robbins of Statesboro, went back to Ukraine to deliver contributions from Americans, and to meet up with "Brother Sasha," DMI ministry director in Ukraine. Sasha, whose last name is not revealed to protect him from becoming a Russian target, has been a consistent link between the people of Ukraine and DMI for several years.
The Ukranian pastor is among several volunteers who run the home bases for missions that DMI supports. After being displaced from Doneskt in the southern part of Ukraine after continued from page
it was overrun by Russian troops, Sasha has lived with his family in the northern city of Kyiv and stays in touch with outlying mission bases to lend support and guidance.
"Our purpose on this visit was to take money to Sasha and the mission bases. Because of the war, there is difficulty in transferring money to banks. We physically took cash to them and met first-hand with people receiving the cash," Conner explained.
Sasha is a contact for multiple sources of funding, including DMI. Before going to outlying villages to deliver the cash to mission contacts, the DMI representatives met with Sasha at his office in Kyiv, to discuss the many ways the funds could be used. The needs were basic everyday needs that most of us take for granted: food, shelter, clothing, medicine, medical supplies and transportation. In some villages, homes and churches that had been damaged or destroyed by Russian shelling need to be repaired or replaced. "When we went to the villages and met the people, we got to see how this money would be used," Conner said.
"The Ukranian people are settling into sort of a new normal with the war," Conner said of what he recently witnessed in Ukraine. "They were definitely more anxious during my last trip in May. Now, I think that even though the threat is no different, they have grown more accustomed to the situation and are continuing with their day-to-day lives with that in the background."
Ukrainian Victory
Last Friday, Ukraine's armed forces swept through southern villages and towns on a mission to retake the coastal city of Kherson, as Russia's military completed a humiliating retreat from the area.
The pullout across the Dnieper River that divides the region is one of the biggest setbacks yet for Russian President Vladimir Putin, abandoning perhaps the greatest prize of the war he launched nearly nine months ago.
Russia's retreat comes after a grinding Ukrainian counteroffensive that pushed Putin's troops back and pounded their supply lines. As Ukrainian troops advanced, Russia evacuated more than 100,000 residents in the area — and then its own soldiers.
In the center of Kherson, the strategic port city seized by Putin's forces in the war's earliest days, video and photos verified by NBC News showed residents celebrating in the streets as they gathered at the regional administration building to raise Ukrainian and European Union flags where the Russian flag had flown just days earlier.
Kherson was the only regional capital city seized and controlled by Russia since its full-scale invasion on February 24 and its capture helped assure access to the coast, allowing the Kremlin to create a land corridor across Ukraine's south. It also acts as a vital gateway to the Crimean Peninsula, which Russia has occupied since 2014.
Ukraine's military said that another 12 settlements had been liberated throughout the strategically important southern areas surrounding Kherson since the Russian retreat was announced November 9.
Retaking Kherson could be a strategically and psychologically crucial vic- continued from page
tory for Ukraine, but Kyiv officials warned that Russian forces could inflict severe military and civilian damage through artillery strikes and mines left behind as they pulled out. Looking ahead, muddy weather that so badly affected Russian supply lines at the start of the war in February have returned, and Ukraine's harsh frozen winter could again hamper the Kremlin's goals.
But despite Ukraine's gains, the war is a long way from being finished. Russia is firing 20,000 artillery rounds per day, according to a senior U.S. defense official, while Ukraine is firing from 4,000 to 7,000 rounds daily. The toll on civilians shows no signs of easing. National Pride Growing
Conner said nine months after the recent Russian aggression began, certainly more people are suffering, but there is a growing sense of nationalism and a growing commitment to beat Russia.
He said that the mass exodus from Ukraine, which marked the beginning of the conflict, has ceased. "People are no longer trying to get out, it's not quite the same outflux; in fact, people are returning." He said there is a lot of internal relocation with citizens evacuating to safer territory as Russian strikes continue, but Ukrainians are still standing and fighting.
Conner said he became more aware of the Ukrainian citizen soldiers' determination in repelling Russian troops as he heard reports from the frontlines. The citizens who have left their everyday lives and fought alongside the Ukrainian troops to defend their homeland are using their own personal vehicles rather than military vehicles supplied by the government. "You see convoys of military people who are driving ordinary Toyota trucks that are painted green to look more like military vehicles. We heard of one citizen soldier who needed the funds to get his vehicle repaired," Conner said. Some of the DMI funds went for that worthy purpose.
"What Ukrainian people need most is political support, and even more importantly, humanitarian aid, and prayers, of course," Conner said. He praised the work being done by Samaritan's Purse and other American and international groups. "With DMI, 100% of our funding goes directly to the people at ground level," Conner said, noting that he is grateful he had the chance to meet the very people who will directly benefit from the work DMI is doing.
About DMI Discipling Ministries International is a 501C3 organization which ministers to people through God's word, medical clinics, financial support or pastors, churches, rehabilitation centers, children's daycare centers and orphanages. DMI pastors and medical teams have served in all of the regions being attacked by Russia. Some 23 years of DMI's mission were spent in the Donetsk and Luhansk regions, which have been under Separatist control since 2014.
DMI has set up a "Funds for Ukraine" program and contributions may be made in two ways: DMI, PO Box 69, Culloden, GA 31016 or www.discipling- ministries.org.