Posted on
Coach Cameron Resigns From VHS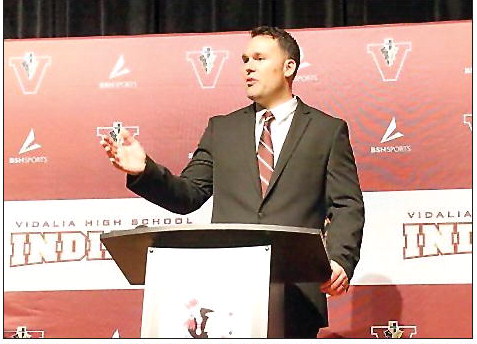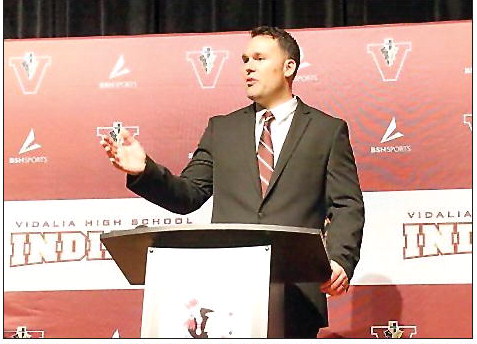 Courtesy of VHS
Vidalia High School Head Football Coach Jason Cameron has resigned from his position as Head Coach of the Indians. Cameron submitted his letter of resignation last Wednesday morning.
Vidalia Athletic Director Tommy Dalley said, "We would like to thank Coach Cameron for the past three years and the time he has put into our program."
"We will begin to look for new head coach in the upcoming days," said VHS Principal Bruce Mulkey, "Vidalia High School has a long tradition of competing at the highest levels and we will do everything in our power to make sure that this tradition continues."
Coach Cameron stated in his resignation letter, "It is with strong emotions that I announce my resignation from the Head Football Coaching position at Vidalia High School.
'I would like to take this time to thank Mr. John Sharpe and the Vidalia Board of Education for giving me the opportunity to be the head football coach of Vidalia High School for the past three seasons. The relationships I have built along the way, especially with my coaches and my players, are some that I will take with me for the rest of my life. As a program there is a lot to celebrate over the three years; bringing a Region Championship, numerous college signings and most importantly, molding young men into better versions of the themselves.
To my players, continue to fix it with effort and toughness and always strive for greatness on the field and in the classroom! It has been a privilege to be your head coach.
To my coaches, I walked in the door with a staff already in place. I now leave with nine new members of my family!"
In the near future the VHS administration and school board will begin the search for a new Head Coach for the Indians.