Posted on
Massive Crowd Turns Out For Kemp in Mount Vernon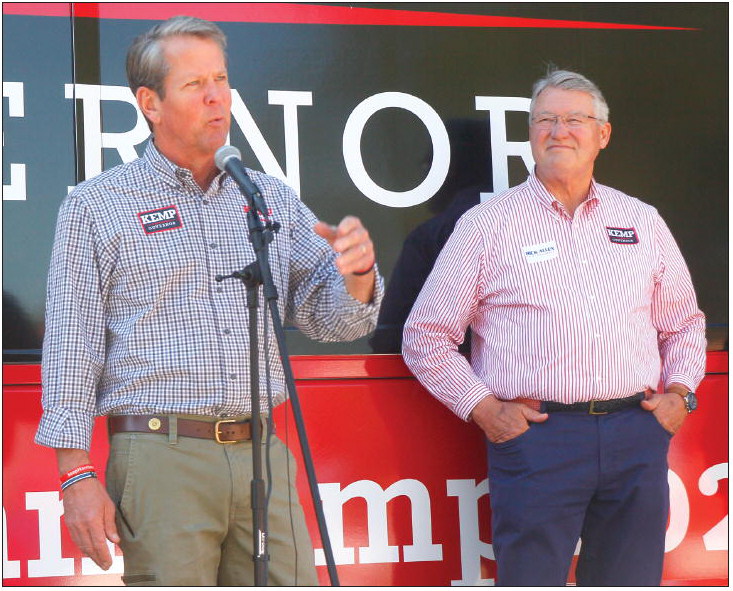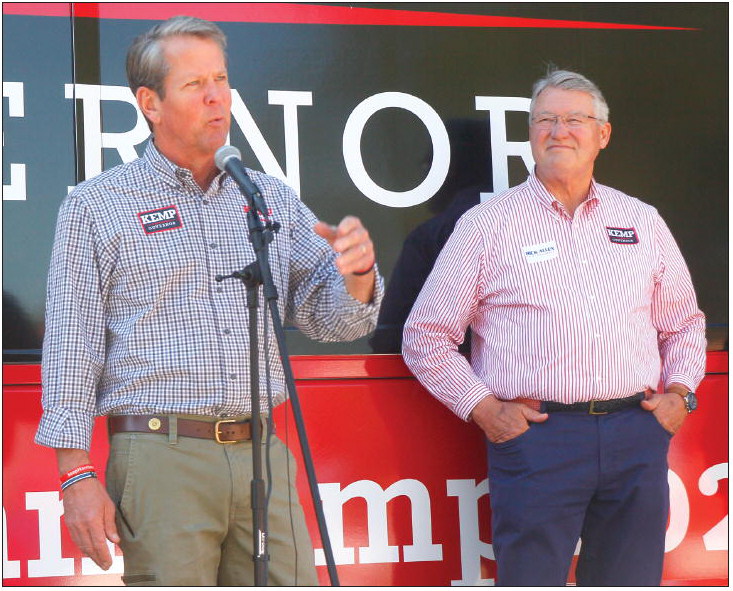 Governor Brian Kemp made a stop in Mount Vernon last week as a part of his reelection campaign bus tour across the state. Property taxes, inflation, voter turnout, and support of law enforcement were among the topics he addressed.
On October 24, the parking lot of the Mount Vernon Community House was filled with individuals from Montgomery, Wheeler, Telfair, Toombs, and Treutlen Counties, and even some attendees from as far as Bleckley County. The turnout so exceeded the expectations of Mayor Joey Fountain and other event coordinators that original plans to hold the event indoors were abandoned.
Kemp was joined on the tour by his wife and daughters, U.S. Representative Rick Allen, and a few others. "We are the most secure state in the country in which to vote," Allen reassured attendees. "We've also made it easier for you to vote. It's easier to vote and harder to cheat. We have great leadership in the state of Georgia, and we have great continued from page
leadership right here in this area."
Mayor Fountain told the audience of Kemp's history, including his time as a small business owner, state congressman, and Governor, before inviting him to speak to the attendees. "He spent over 8 years as a senator and Secretary of State, working on bills to help small business owners, and he has kept that focus as Governor," Fountain emphasized.
Momentum Building
According to Kemp, the days leading up to this election have been filled with trips throughout Georgia, both rural and urban, to continue to build support for the upcoming election. "The momentum is truly on our side, and we just have to keep it going for 15 more days," Kemp remarked. "We have great people in place to represent Georgians well and make sure it is a great place to live and do business in." He continued, "Our state is doing so well because we have been saying no to all the things that Stacey Abrams is for. When I reopened small parts of our state that were closed to stop the spread [of COVID-19], build PPP supplies, and manage hospital bed capacity during the toughest times of the pandemic — when I made the decision to reopen those places — I took a lot of grief from the national media, Atlanta media, and many others, while hardworking Georgians, like many of you, were about to lose everything they had. That is why I didn't listen to them, I didn't listen to Stacey Abrams — I was listening to the barbers, cosmetologists, and restaurant workers who told me that they could not continue living like that because they were about to lose everything they had."
The Governor noted, "That's who I was fighting for, because that's who I told you I would fight when I was here in 2018 in front of this bus — putting you first before the politically correct." Kemp shared how he made the decision to keep Georgia open regardless of criticism because of his focus on education. "The data in the Trump administration has the same data that we have today in the Biden administration, and that is that our kids need to be in the classroom."
Law Enforcement
On the topic of potentially defunding the police, Kemp reassured officers that he was for them and not against them. "I want every law enforcement officer to know that we have your back. That's why we work with people like (District 156) Representative Leesa Hagan, (R-Lyons), in the state Congress to make sure we are passing bills that support our law enforcement, rather than defund them. We can hold people accountable, but we have to support our men and women in law enforcement."
Taxes
Kemp continued to highlight the successes of his term, such as the biggest income tax cut in Georgia history and the gas tax exemption. He recognized several dignitaries in the crowd, such as sheriffs, local school superintendents, county and city officials, and more, before listing several plans for the state as long as he is reelected, including one–time property tax relief grants that will provide Georgians with decreased property taxes of around 25% next year and another reimbursement of income taxes similar to that this year.
Voter Turnout
When asked his thoughts on the high voter turnout rate in the local counties and statewide, Kemp attributed the success to Senate Bill 202. "This truly indicates that the bill that was passed, (Senate Bill 202, also known as The Election Integrity Act), made it easy to vote and hard to cheat. Stacey Abrams has lied and said and that voting has been suppressive, but that's just not the case, and that is what we are seeing." He added, "I believe we are in the 4th quarter of a University of Georgia football game, and we have worn [the opponent's] defensive line out. We are getting 4-5 yards a play — but we need to keep blocking and tackling because soon those 4-5 yard plays will move the ball 10-15 yards, and eventually into the end zone on November 8," Kemp explained. "We cannot give up now. We do not win unless we get 50% plus 1 vote. We have a lot of good people on the ticket with us that we also need to help push over that line. We cannot take for granted that our neighbors, family members, etc., are going to vote. Remind them, talk about it, and let's just keep chopping all the way to Election Day."