Posted on
Kayla Cheek Hired As Montgomery Co. Elections Supervisor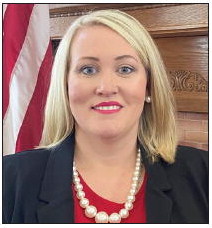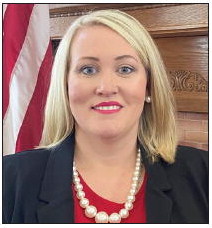 By Makaylee Randolph Staff Writer
mrandolphadvance@gmail.com
In a called meeting on October 20, the Montgomery County Commission hired Kayla Cheek as the Elections Supervisor for Montgomery County. Last year, the Commission voted to propose legislation to the state government to establish a Board of Elections to replace the current Registrar's Office. The Commission began its search for an Elections Supervisor and five Board of Elections positions in August. According to County Manager Brandon Braddy, the Commission will decide and announce the new Board of Elections and Registration members in continued from page
November. "The Commissioners and I look forward to Mrs. Cheek serving as the county's new Election Supervisor," said Chairman Leland Adams. "Her management experience from the private sector will be an asset to this new department."
Cheek has over 16 years of experience as an office manager. She holds a Bachelor of Business Administration degree specializing in Healthcare Management from Liberty University. She is a graduate of Ocmulgee Academy in Lumber City and she and her husband, Colby Cheek, have three daughters, Clara, Sadie, and Emmalyn. The family resides in Montgomery County. They also attend the First Baptist Church of Mount Vernon where Cheek serves in the children's ministries.
"I am honored to be granted this position as Elections Supervisor," Cheek remarked. "I believe my past leadership experience has created a strong foundation for me to serve Montgomery County with integrity, fairness, and an unbiased judgment. I look forward to working for the citizens of Montgomery County."
According to Section 13 of the HB 1015, which established the Board of Elections, Cheek will be responsible for administering and supervising the conduct of elections and primaries, registering the electors of the County, and making recommendations to the County for employment of full- and part-time employees as they are deemed necessary.
She will be considered a county employee for purposes of pay and benefits and shall not be eligible to serve as a member of the Board of Elections and Registration. Cheek will begin her role on January 1, 2023; until then, the election and registration duties for the upcoming election will continue to be handled by the Probate Court and Board of Registrars.