Posted on
Indians Shock Mustangs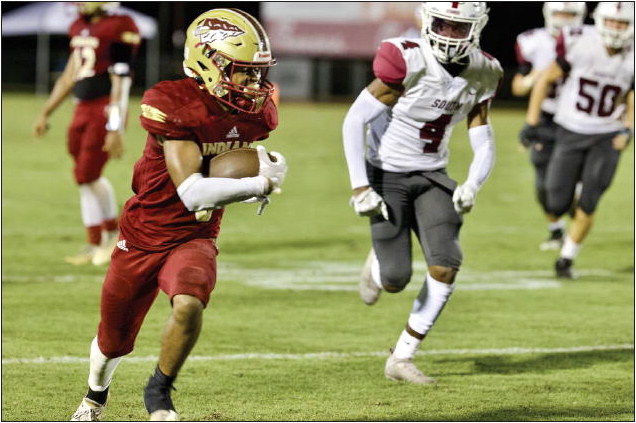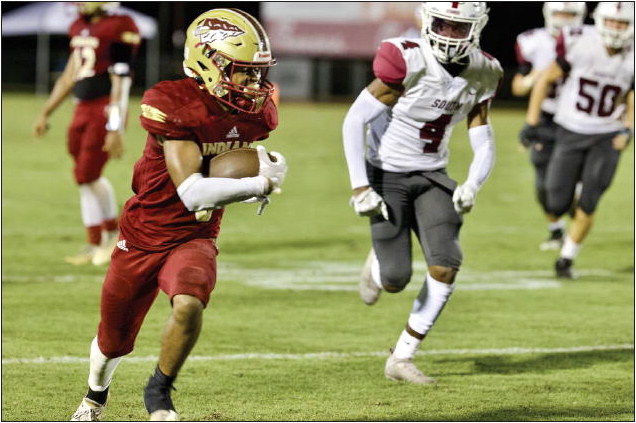 Courtesy of VHS
Antonio Barron hit Kaleb Bennett on a 63-yd TD strike, to give the Vidalia Indians a 21-14 win over the South Effingham Mustangs, Friday night at Buck Cravey Field.
The score came after the Mustangs had tied the game at 14-14, with 24 seconds remaining on a 2-yard run by Jah' Tavion Weickerson. The score came on a short field, after the Mustangs had pinned the Indians deep on a punt, and forced a three and out by Vidalia.
The Mustangs controlled much of the first half, scoring the games first touchdown, on an Aubrey Heath 23 yard pass to Martrell to make the score 7-0 with 11:52 remaining in the half.
The Indians had several opportunities to put points on the board, but had several drive killing penalties that kept the Indians scoreless going into the half.
Down 7-0, the Indians got on the scoreboard with 7:10 to go in the 3rd quarter, and following Adam Crutchfield's PAT, the game was tied 7-7.
The Indian defense, which bent at times during the night but didn't break, kept the Mustangs in check during much of the second half, allowing just 164 yds of total offense.
The Indians took the lead for the first time when Ahmelion Jones capped a drive, going in from two-yards out to put the Indians on top 14-7, following Adam Crutchfield's PAT. continued from page
After the Mustangs tied the game at 14-14, the Indians looked to be out of options, but Bennett somehow got behind a group of defenders, and Barron threw a strike, and Bennett took care of the rest. The Indians' offense produced 256 yards with Barron accounting for 155 yards with 80 yards through the air and another 75 on the ground. AJ Mclendon added another 70-yards on the ground, with Bennett leading the Indian receiving corps with 70 yards and the game winning touchdown. On the defensive side of the ball, Jones led the way with 8.5 tackles, followed by Sam Sapp, Trace Thompson, and Brandon Beasley, with six each.
The Indians will host Savannah's Beach High School for Recreation night this Friday at 7:30 p.m. at Buck Cravey Field.