Posted on
BPC Dedicates Newest Dormitory to Barbara Thompson Conner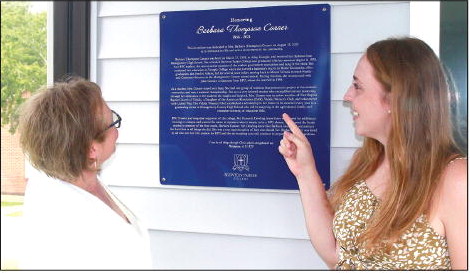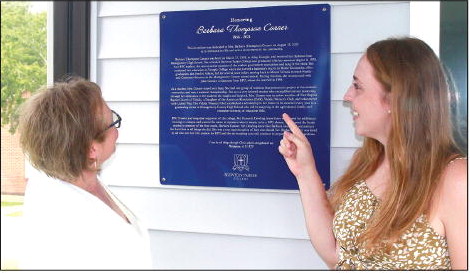 Members of the Thompson and Conner families joined Brewton-Parker College staff and fellow community members to dedicate the school's newest dormitory to the late Barbara Thompson Conner on Saturday, August continued from page
13. "I'm reminded of Proverbs 6:7, which says, 'The memory of the righteous will be a blessing.' I think that's such an appropriate passage today as we honor the memory of Barbara Thompson Conner," BPC President Steve Echols commented. "I have been hearing stories of so many dimensions of her time here. It is really remarkable how much she has equally impacted Montgomery and Toombs Counties."
This new dormitory was funded by BPC Trustee and long-time supporter of the college Kenneth Dowling, who donated the money for the construction in honor of Barbara, his first cousin. "He knew there was a need for additional housing on campus and wanted the name to represent what it means to be a Brewton-Parker College alumnus," Echols explained.
The 5000-square-foot dormitory offers shared bedrooms for two female students with connecting bathrooms, and a grassy breezeway. According to Echols, the college is also working on the addition of a nearby common space, which will provide these student residents with an area to socialize and do laundry.
Barbara's husband John Conner also spoke at the occasion on his thoughts about his wife's memorialized legacy. "This is such a tribute to my wife. Barbara would be so proud, thrilled, and humbled," he emphasized. "A year ago at Barbara's funeral, I overhead someone talking about a description of Barbara, and they said she was 'precious.' That word describes her better than anything I could think of, and in her life, she lived an example of a Godly life."
Barbara Thompson Conner was born on March 17, 1956, in Ailey, and graduated from Montgomery County High School. She earned her Associate's Degree from BPC in 1976, after being very active in the college through the student government association and choir. Later, she earned a degree in Home Economics from Georgia College and lived in Athens for several years until returning to her hometown to teach Family and Consumer Sciences in the local school system.
John went on to share memories of meeting his wife on campus at BPC and their affinity for the institution, which the couple attended in the 1970s. Yet, it was not until Conner returned to the school that she reconnected with John and the pair eventually married.
Barbara's legacy includes winning a national championship with some of her students at a national convention, and serving as a member of the First Baptist Church of Vidalia, Daughters of the American Revolution, and Vidalia Woman's Club. She also volunteered with the United Way of Toombs, Montgomery, and Wheeler Counties.
In addition to the Conner Hall, Barbara's legacy is remembered through the annual scholarship given by the Vidalia Woman's Club in her honor to a graduating senior of Montgomery County High School that will be majoring in the agricultural, family and consumer sciences, or education fields.
According to Mount Vernon Mayor Joey Fountain this dedication is evidence of the growth of BPC throughout the years. "Brewton-Parker College was founded on Christian principles and values; because of that foundation that was laid so many years ago, this school has endured numerous difficult times," he said.
He added, "We are fortunate to have Brewton-Parker [College} here, and we couldn't ask for a better school."
The dorms will be officially open to female students within the next few weeks. The only remaining task for completion is the installation of each room's furniture.
Jim Thompson, Gloria Duggan Thompson, John Conner, Kenneth Dowling, Maranda Thompson Baird, Doug Baird.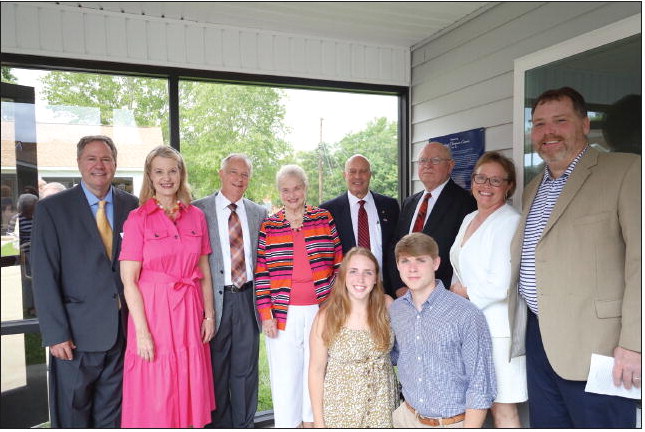 CONNER HALL – The Thompson and Conner families were present at the event toacknowledge the tribute to their beloved sister, aunt, and wife. Front Row, L to R: Helen Kate Baird, Hugh Baird. Back Row, L to R: Wallace Harrell, Ann Conner Harrell,