Posted on
Mobile Home Fire Claims One Life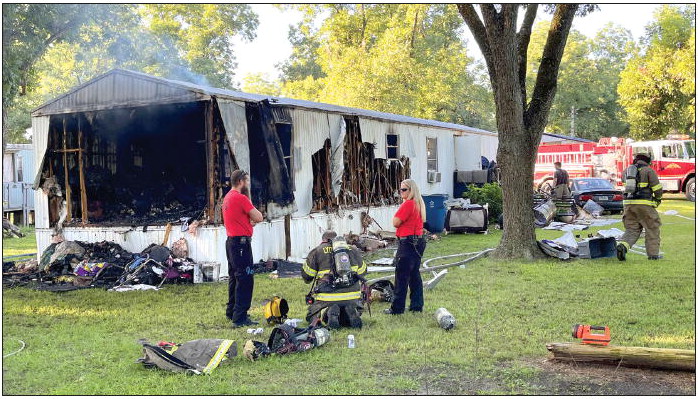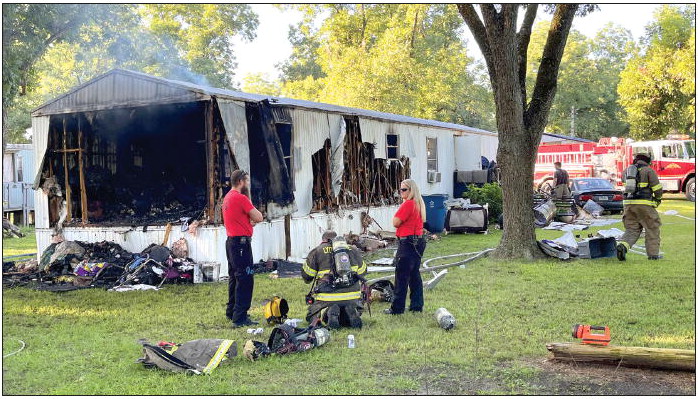 The Toombs County Fire Department (TCFD) responded to a mobile home fire on July 27, which claimed the life of one elderly lady.
Mary Thompson, 76, was pronounced dead at the scene after firefighters found her collapsed within her burning home on July 27. Thompson is believed to have died from smoke inhalation.
The TCFD was dispatched to the fire at 1298 U.S. Highway 1 South at 6:56 a.m. on July 27, and arrived within four minutes. Upon arrival, firefighters discovered smoke emitting from all upper areas of the mobile home, both front and back door frames, and all continued from page
openings around windows. Flames were visible from a window on the front side of the home, where an air conditioning window unit was hanging from electrical wiring. According to firefighters, smoke was heaviest at the end of the mobile home with this window unit.
Firefighters entered the structure and found the smoke to be consistent at the floor level of the structure. Fire attack advancement was slowed due to the amount of stored items within the home. When these responders reached the rear bedroom, Thompson was found lying face down heading into the fire area and showed no signs of life.
Once she was removed from the home and the fire was extinguished, at least two dogs in kennels and one cat were discovered deceased in the fire area. According to TCFD Fire Investigators Jennifer Moser and Wendell Harvey, the discovery of these animals led officials to believe Thompson had been attempting to gain access to the bedroom to free her pets from the room when she collapsed.
TCFD Chief Johnny Moser commented on the tragedy. "The Toombs County Fire Department has experienced six structure- fire related deaths in the past 13 years – five of those deaths occurred in structures without smoke detectors," he said. "I would encourage all homeowners to give some thought to the value of their life or the values of others' lives, and buy a smoke detector." He also encouraged homeowners to contact their local fire department if assistance is needed to install one of these devices.
The results of the investigation were inconclusive, as the cause of the fire was not able to be determined.