Posted on
Lyons PD Arrests Three In June 30 Shooting
Three persons have been charged in connection with a June 30 shooting in Lyons that left one man wounded. Tereso Ramirez, 38, Otis Lee Harris, Jr., 18, and a 16-year-old juvenile male were arrested following the incident at a Lyons apartment complex.
On June 30, the Lyons Police Department was dispatched to a home on the corner of Southeast Broad Street and South Tenth Street regarding reports of shots being fired. Upon reaching the scene, officers discovered that an unknown shooter or shooters had fired shots into a crowd of people outside the residence. Multiple bullet holes were found in the exterior walls of two adjacent continued from page
apartment units. The weapon used in the incident was also recovered.
Authorities later discovered a victim of the shooting, Ortavious Deshaun Haynes, had gone by personal vehicle to Memorial Health Meadows Hospital to seek medical attention. Haynes reportedly sustained a non-life threatening gunshot wound to the neck and ear.
Further investigation into the case led to the identification of two suspects: the 16-year-old juvenile and Harris. Law enforcement officials were notified about the whereabouts of these individuals on Wednesday, July 6, which led to their arrests. Ramirez was also arrested at this time for hindering the apprehension of the subjects.
Harris and the juvenile are charged with 6 counts of Aggravated Assault and 6 counts of Criminal Attempt to Commit Murder. Ramirez was charged with interfering with the arrests and other related charges. The suspects are jailed at the Toombs County Detention Center after being denied bond at their first appearance.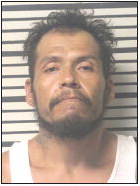 Tereso Ramirez