Posted on
Historic Lyons Clubhouse Gets Facelift, New Purpose
mrandolphadvance@gmail.com
The newly-created Gardens of Hope Recovery Community Organization (RCO) will be housed in the historic Lyons Garden Club building, as Forge Recovery Center and the Lyons Garden Club have entered into continued from page
a partnership for the project. Supporters of the RCO began restoring the historic structure on Saturday, July 9.
The Lyons Garden Clubhouse is located on Highway 280 in Lyons, and is listed on the National Register of Historic Places. The landmark was built for the Lyons Woman's Club, which organized in 1928. The group met in City Hall until the United Daughters of the Confederacy gave the club a city lot on which to build its clubhouse.
The women commissioned architect William Walter Simmons to design the structure, and the building was finished in 1932. It immediately became a center for social activity, and although the Woman's Club disbanded in 1945, the site continued to be a community mecca, as the Lyons Garden Club began meeting there.
Volunteers and supporters of Gardens of Hope who gathered on the historic clubhouse grounds last Saturday completed landscaping, repairs to utilities, and renovations to the interior of the building. The work will also include restorations of some portions of the federally listed structure. The building will continue to serve as a meeting place for the Garden Club, as well as a site for gatherings of Gardens of Hope.
This building will be used as the "clubhouse" for the RCO, which provides activities and support for local members of the recovery community. This organization is peer-led and strives to allow individuals to support one another through sober lifestyles.
The creation of the RCO began in June, when leadership held a community listening session to inform citizens about the group. Following this meeting, $10,000 in startup funds was raised in support of the new community resource.
According to leadership, work is ongoing, but the progress of the renovation is encouraging, and just another task to be completed in preparation for the new RCO. The completion date for the project is undetermined.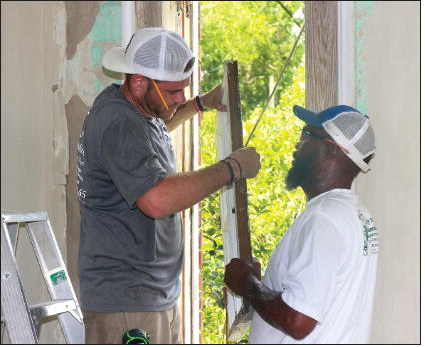 RESTORATION AND RENOVATION – Volunteers and workers completed both restoration and renovation work, as seen as two volunteers work to replace a window on the interior of the building.Photo by Makaylee Randolph