Posted on
Gardens of Hope Prepares to Launch
Toombs County will be gaining another resource for those recovering from drug and alcohol addiction, as the new Recovery Community Organization (RCO), Gardens of Hope, prepares to launch.
Members of the local re­continued from page
covery community held a listening session on June 2 to discuss the role and plan for the new resource. The group also received feedback on good resources for those in recovery in Toombs County, as well as areas that need improvement.
Current Recovery Resources
"Let's begin with a simple question: What is right with you?" asked RCO Development Program Manager Brian Kite. "So often, we focus on what is wrong with us that would make us have these issues, but it is so important to stop and recognize what is right with us, too."
Attendees took turns giving various answers to the question, ranging from the joy of being alive to celebrating the end of chemotherapy. Kite explained that this activity was an example of a strengthbased approach to recovery, which was imperative to the success of the process.
When asked what was good within the recovery community in the area, the crowd mentioned facilities, such as Forge men's recovery facility and A Place to Heal women's recovery facility, as well as resources such as Charlie's Place, the Hope House, Pineland Behavioral Health Center, Leigh-Anne White & Co. Counseling, the Department of Family and Children Services, Court Appointed Special Advocates (CASA) and The Refuge.
Recovery support groups and meetings were also mentioned, such as the Narcotics Anonymous and Alcoholics Anonymous meetings, All Recovery meetings, and Freedom In Christ addiction support group, which is sponsored by Lotts Creek Baptist Church. The Nar-Anon Family Support organization was also discussed, along with Y12SR, which is 12-step yoga classes that meet on Wednesday's at 7:30 p.m.
Several churches and charitable organizations were also mentioned, such as His Work Ministries, God's Storehouse, and Pantry Chef, that all pass out food to those in need. Mercy Medical Clinic was shared as a resource for medical treatment for those without insurance, and the Boys & Girls Club, Paul Anderson Youth Home, and Mel Blount Youth Home were shared as organizations that focus on youth intervention.
Attendees also praised local industries, such as Chicken of the Sea, Trane, and McLendon Enterprises for their willingness to hire recovered addicts. "We are blessed in that everywhere is willing to hire those in recovery," Forge Executive Director Craig George, commented. "They are willing to give second chances and have open minds."
Needed/Desired Change Kite, along with his assistant Bianca Prieto, who serves as a Georgia Council Project Assistant on the RCO team, led the group in a discussion of areas that they wished to see change within the local recovery community. These included better inmate reentry services, easier access to treatment, more harm reduction services, and increased advocacy and education on recovery and addiction to help eliminate the stigma. They shared that they also would like to see support services for those incarcerated, the creation of a detox facility in the area, and help and support for child services. A need that many voiced was the need for more access to housing for those in recovery. One attendee shared that she was unable to apply for an apartment for her and her children because of her classification as a felon. The attendees told Kite and Prieto that they hoped to see housing created to give these individuals a chance to find lodging for their families.
What's Next?
After hearing these thoughts from attendees, Kite and Prieto began discussing what is next for the community regarding recovery, and specifically, the creation of the new recovery organization.
According to the pair, the next steps to furthering this local recovery community is collaboration and unification through the creation of a RCO. This RCO is an organization, which is led and run by peers in recovery, that organizes advocacy activities, provides support to others in recovery, and provides education and training to the surrounding area. Two directors of neighboring RCOs also spoke to the attendees to share more information about the function of the resource. "Our RCO served as the hangout spot for those in the recovery community until the COVID pandemic hit," RiseUp Dublin RCO Director Ashley Dykes explained. "After that, we became more of a strictly need-based resource, but we are working to become that hangout hub again."
RiseUp, which began in 2018, provides individuals in recovery with a variety of activities and resources. The group hosts socializing events, such as softball games and trips to the aquarium. The organization also offers parenting classes for those rebuilding relationships with their children, and even works with the Laurens and Telfair County detention centers to provide services and education to those incarcerated.
The RCO in Dublin often teams up with the RCO in Statesboro for some social events, according to Freedom Through Recovery Statesboro RCO Director Kathy Tootle. She told attendees that her RCO even participated in an event called Recovery Recreation Day, where participants and their families traveled to a Boy Scout camp for a day of fun.
Tootle said that her organization focuses on support and encouragement through interpersonal relationships and spirituality. She informed the attendees that the organization hosts housewarming parties for RCO members when they obtained their homes and apartments, and that the organization hosts weekly devotions in addition to support group meetings.
"Our organization is very unique in that we are able to work with Georgia Southern [University] to help provide resources for college students," she remarked. "We also are one of the only RCOs in the surrounding counties that handle most of the DFCS cases."
The group also works with the Statesboro Junior Reserve Officers Training Corps ( JROTC). This program provides early education on addiction to youth. They provide families of RCO members with a free family art class through the Georgia Southern University Averett Center for the Arts, and offer parenting classes for members. The RCO also serves as a resource for recovery messaging training and other educational resources for local hospitals and the mental health community.
She concluded, "Last year, we had over 13,000 services given and over 700 of these were to new people."
The Local Plan
George informed the public of the specific plan for the new local RCO, whose name was decided through a poll of the attendees at the event.
"What we have going on right now is we have a building that has been made available by the Lyons Garden Club," he explained. "Our community has now been named, and we are definitely looking to strengthen our relationships with each other, not create the overlapping services like we heard, and to create more of that availability to connect with each other." He added, "Right now, the next steps are that we will have future work days at this new facility, which will require a community effort. We need women and men to show up and help physically. We also need advocacy. We need individuals who are willing to go form here tonight to talk about what is going on and what is coming in the future."
He introduced the Gardens of Hope RCO Executive Director Todd Hamm. "This is an amazing guy that you all will come to love and get to know," George remarked.
"Connection is the opposite of addiction," Hamm emphasized. "That's the main force driving me today, because I remember being alone [during addiction]. I'll tell you a personal story: I had a loved one that had no connection; he didn't have any resources, he didn't have anywhere to go, he didn't have any mom, dad, brother, sister, recovery community, meetings, or even me at the time. Two days ago, he died alone, just like pretty much everyone I know that died [of addiction]." He continued, "That's the difference in recovery and addiction; this is the connection part."
"My vision for Toombs County RCO is to make a safe place for people like me, people like us, to come in and have conversations," Hamm concluded.
George reflected on the opportunity to create this new RCO and the community listening session. "I am just honored to be a part of something so special, and to be a part of a movement and an opportunity to invest in Toombs County and our future," he emphasized.
To learn more about the Gardens of Hope RCO or recovery resources within the area, visit the Gardens of Hope and Toombs County Prevention, Treatment, & Recovery Facebook Pages, or call 912-585-5504. More information about the new RCO will be shared as it is further developed in the future.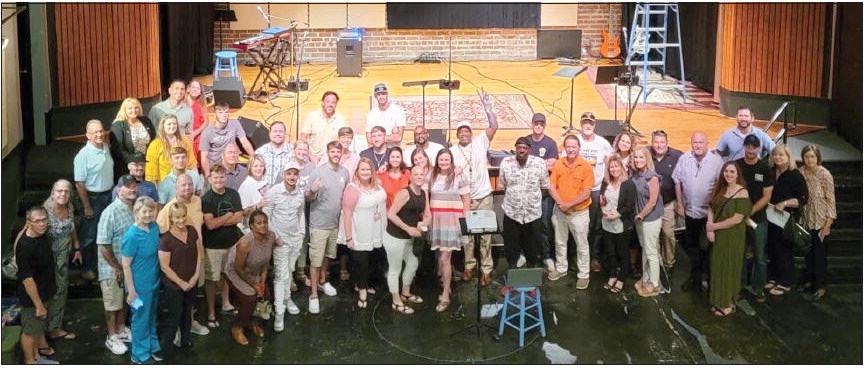 COMMUNITY INPUT – Several local citizens attended a community listening session on June 2 to learn more about the creation of the Gardens of Hope RCO within Toombs County. Attendees also gave input on the local strengths and weaknesses of resources for the recovery community.