Posted on
Booster Stadium Field Named In Honor of Coach Jacky Jones
Past players and friends of former Toombs County Coach and Athletic Director Jacky Jones gathered at the monthly Toombs County Board of Education meeting on Thursday, June 9, where Jones was honored by Board members and Superintendent Barry Waller.
The longtime coach of football, baseball and girls' basketball, was presented a memorial home plate from the Jacky Jones Baseball Stadium, which was demolished in 2020 to help increase parking space at Booster Stadium. Waller also announced to Jones that there would also be a plaque placed in the exact coordinates of the location of home plate at the former field.
"Our Board has mentioned a couple times lately they wished to honor a very special and beloved person in our community, who has been very special to our school system as well for many, many years, and tonight we get to do that," Waller told attendees.
According to him, Coach Jones married his wife, Betty, in 1960, and right out of college went on active duty in the United States National Guard before beginning his educational career as a teacher in Sylvester. He then moved to the Toombs County School System in 1961, where he taught Georgia History for a year and served as the assistant coach for football and as the head baseball coach. In 1963, he began coaching girls' basketball, which continued upon his acceptance of the athletic director position in 1969. He won the state football championship as head football coach in 1975, and served on and off as a coach and athletic director until his retirement from the Toombs County School System in 1990.
"In all, Coach Jones coached football in Lyons for 25 years, he coached baseball for 10 years, and he coached girls' basketball for 27 years," Waller continued. "As you know, in 2020, we played our last baseball game in Jacky Jones Field in March. We have since built a new baseball field and athletic complex out here at the high school. This has been a long time coming: we are going to recognize Coach Jones tonight by giving him the home plate that was down on Jacky Jones Field during that last home game."
The banner that hung on the scoreboard at the old field was also presented to Jones. A bronze commemorative home continued from page
plate will be placed in the exact coordinates of the home plate at the former field. The plate will be inscribed with a brief history of the Jacky Jones Field from 1965-2020.
Following these announcements, Waller surprised Jones by having the Board members vote on a motion to rename the field at Booster Stadium, which was unanimously passed. The field will now be known as Jacky Jones Field at Booster Stadium.
"We just want to thank you for all that you have done for us throughout the years," Waller said to Jones.
"I hated to see the baseball field turn into a parking lot, but it is what we needed," Jones stated. "This Board of Education has really done a lot. It was a really special place, and always will be. I want to thank y'all for this, I love that football field and I'm very honored by this."
He shared a statement from a colleague: "If you have good athletics, you're going to have good academics." Jones said that this statement had been proven true in the Toombs County School System.
"The reason I'm up here has to be the players," he remarked about the occasion. "If you didn't have the players, you weren't going to win. Winning isn't everything, but I tell you what, it sure is a lot. We were very fortunate to win the state championship."
He added, "You have to have players, and you have to have people like Coach [Anson] Callaway to start them out. I had some very good sets of coaches."
Callaway, who was in attendance at the Board session, commented, "[ Jones] has been like a library book. We'd check him in and check him out whenever we needed him. He coached three major sports, but he was willing to fill in whenever needed. We came here together in 1961, and I love that man." Former Toombs County Teacher Bobby George also spoke on Jones' commitment to Toombs County Schools. "I graduated from Vidalia High School, but I came to Lyons as a teacher, and Coach Jones was one of the pillars of the school." George noted, "There was a lot of crazy stuff going on back then, but he was steady. I got to know the other coaches, too, and what I found out was that Lyons and Toombs County were family. The coaches allowed me to be a part of that, and I want to encourage you to try to always make it like that: family. It was special, and this is part of it right here, Coach Jones and the opportunity to recognize him like this."
With the renaming of the field, a new banner will grace Booster Stadium. It will be unveiled with a ceremony featuring Jones at a home game during the upcoming season. The date of that ceremony will be announced at a later date. Other News The Toombs County Board of Education is in the process of approving its annual budget in a meeting on Thursday, June 23. Details of the budget may be found on the school system website, and the Board Office may be contacted for more information.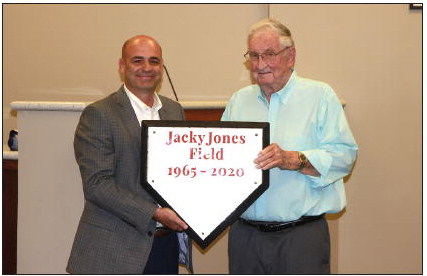 Superintendent Barry Waller (left) presents the home plate from Jacky Jones Baseball Field to longtime Coach and Athletic Director Jacky Jones (right).Photo by Makaylee Randolph