Posted on
"Make It, Move It"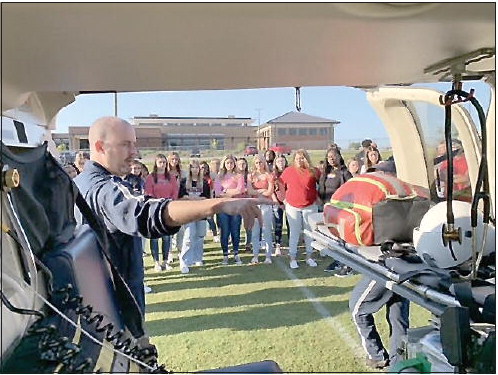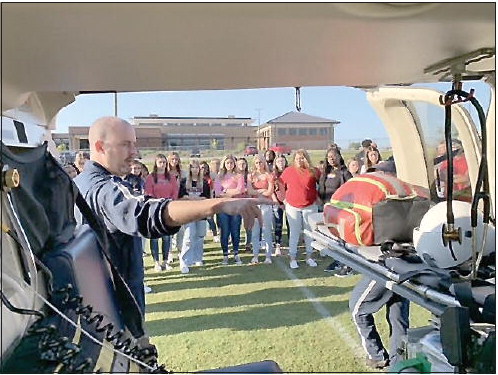 Fast-Track Education Focused on Manufacturing & Logistics
Local businesses and educators are linking up to offer a fast-track pilot program that could lead to future careers in manufacturing and logistics for area high school seniors. The "Make It, Move It" program launched in early August and ending in December is a skills-based course led by area companies that will offer a certified manufacturing specialist pathway.
Shelly Smith, CEO of the Southeastern Early College and Career Academy in Vidalia where the program is being offered, noted, "We desperately need it. Our community requires it." She referenced the national worker shortage and the urgency in grooming young continued from page
people to help fill the gaps. "There has never been a time when it has been more difficult to find workers. It has become a national nightmare that I hope will turn around soon."
"The Make It, Move It" program provides students an overview of local jobs and resources and helps them develop competitive employability skills and valuable work ethics. Upon completion of the course, students will produce employment documents and have the opportunity to interview for full-time jobs.
Donna A. Collins, Coordinator of Work-Based Learning and Youth Apprenticeship programs at SECCA, will guide the pilot program. " 'Make It, Move It' is a strategy to allow students to experience the world of manufacturing and logistics and see opportunities for future local employment. SECCA leaders and business partners hope that once students and parents know what is available, they will take advantage of local opportunities for rewarding careers," Collins said.
She added, "Manufacturing is the lifeblood of our economy. SECCA is showcasing the manufacturing companies in Toombs, Montgomery, and Treutlen counties to show how products are made by hand or machine and how, upon completion of the product, the business sells the product to a consumer. The goal of the initiative is to promote manufacturing as an exciting and rewarding career for both salaried and hourly positions."
The local businesses and industries joining SECCA in this pilot effort represent a wide range of interests, from the food service industry to printing to commercial construction. These partners include: Chick-fil-A Vidalia, the Georgia Department of Labor, OSHA, Truax Veneer, the City of Vidalia, Sign and Stamp Solutions, Advanced Fabrication, Meridy's Uniforms, Trane, 4H Robotics, Robin Builders and Oxford Distribution. While a number of these participants are providing instruction on site at SECCA, others are hosting students at their operations for an up close view of production and shipping logistics.
Smith said of the initiative, "This has come about as a way to give these students knowledge about everything from wage withholdings, to learning how to measure, to securely package for shipping, to reading an online order." In the last week of class students will sharpen their skills in mock interviews that will be filmed and critiqued. They will learn how to dress for an interview and learn how to prepare portfolios and resumes.
The students will be available for part-time employment in January through SECCA's workbased program, and they will be available to interview for permanent jobs around May 15 after graduation. "We want this program to be a jump start for seniors in high school to meet a career path," Smith emphasized. She admitted that in the past SECCA has had a difficult time attracting high school students to manufacturing courses. "I think part of it is a misunderstanding about what manufacturing is today. People still perceive manufacturing as repetitive and limited to manipulation of material. That is not what it is and it is becoming less so every day. It is organized and computer-driven."
Smith continued, "This is a fourth down and punt position for us. We decided to have a pilot class instead of taking three semesters and getting students to commit to a year and a half of studies that would be required for the manufacturing specialist certification. We said, let's do it in one semester and give them some skills that will translate directly into work."
On the first day of class students received a kit with the traditional items, but also with a ruler, tape measure and calculator. "These kids need to practice measurement a lot," Smith said. When plans were being made for the pilot program, advisors made a point of focusing on math skills and measuring since this was often observed as a deficit with students.
The course outline includes OSHA certification, instruction on employability skills and work ethics, instruction from six area businesses and industries, and preparation of employment documents and job interviews.
The maximum class size is 30 students and all of the participants were deemed to have the capacity and the support to be gainfully employed after graduation, "but none has a plan for a career or additional schooling once they graduate in May," Smith said. That is one reason it is essential that this effort is a success; that it captures untapped talent and gives students direction. But the program, ultimately, will benefit the entire community, including those industries searching for a welltrained workforce.
"We want this program to be meaningful for the students and for the program partners. We hope this program will prepare these students to do the kind of work this community needs for them to do," Smith noted.
About SECCA
SECCA is a charter school/regional career academy for high school students and an educational partnership among four Georgia school systems (Montgomery County Schools, Toombs County Schools, Treutlen County Schools, and Vidalia City Schools) and Southeastern Technical College (STC). SECCA is the first charter school/regional career academy partnership in Georgia where students from more than one school district will attend classes together. By pooling resources and working together for the common good of all students, SECCA partners increase academic and career/ technical education course opportunities for high school students in the Toombs, Montgomery, and Treutlen area. As a result, high school students who participate in SECCA classes can take high school and college courses that are directly relevant to their career and educational goals. The expansion of relevant educational opportunities for all students will have a positive impact on student achievement, graduation rates, career outcomes for students, and the overall economic development of our community.

PARTNERSHIP — Shelly Smith, CEO at Southeastern Early College and Career Academy in Vidalia, talks to local business and industry representatives who will team up with SECCA to offer a fast-track pilot program focused on manufacturing and logistics. The "Make It, Move It" program will provide high school seniors an opportunity to earn a certificate as manufacturing specialists.Photo by Deborah Clark