Posted on
Keeping Healthcare Close to Home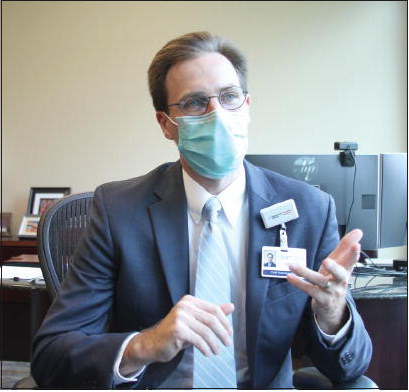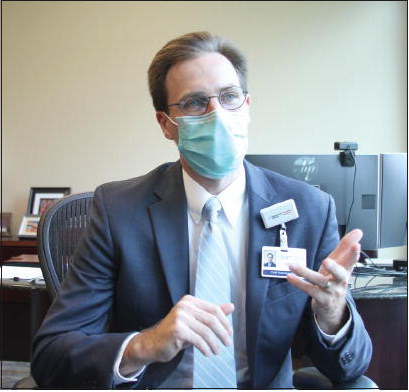 New Meadows CEO Outlines Plans for the Future
Matt Hasbrouck had only recently assumed the role of Memorial Health Meadows Hospital's new Chief Executive Officer when he was faced with the resurgence of a health pandemic in the community in late July. He hit the deck running, so to speak, as he dealt with all of the issues surrounding a second wave of COVID-19. When he attended a Greater Vidalia Chamber of Commerce's meeting on August 24, Hasbrouck told the Chamber Board of Directors that the number of patients on ventilators at Meadows was up by 750% because of COVID. He said he shared these numbers "not to create panic," but to ask for their help in the midst of a community healthcare crisis. The Chamber leadership immediately responded by teaming with the City of Vidalia to stage a vaccination clinic at the Vidalia Community Center on the Monday following its meeting.
Over the past two weeks, Hasbrouck and others from the Meadows leadership team have been speaking to local leaders about what the facility is doing to combat the crisis and asking for continued from page
help in protecting citizens. The message Meadows officials are communicating is to mask up and get vaccinated.
"We don't have a problem with supplies. We are well stocked and well positioned to take care of this community. I am forever grateful and proud of all the healthcare heroes we have at Meadows who are working tirelessly to care for our patients," Hasbrouck emphasized.
As a nonprofit community hospital which transitioned in May 2021 to a for-profit facility owned by HCA Healthcare, one of the nation's leading providers of healthcare services, Meadows has access to a vast system of resources. HCA Healthcare has 185 facilities in 20 states and over 2,000 care sites across the United States and the United Kingdom that are going through this pandemic. "Because of that scale, we have been able to take advantage of best practices," Hasbrouck said in a recent interview. HCA Healthcare has 11 health care facilities in the South Atlantic Division, which Meadows joined this year, and this relationship recently paid off when the local facility was able to bring in regional HCA Healthcare providers when the Meadows workforce was compromised by COVID. "I have learned about some of the great things Meadows has done over the last 16 months (to combat COVID). Those processes are still in place and can be turned on and off, based on need. In terms of supplies and equipment, we could not be better prepared," Hasbrouck said. Every morning at 8 a.m., hospital staff goes through hospital incident command. "It is 30 minutes of touching bases on staffing, processes, supplies and equipment. We make sure we have what we need to take care of patients and to address surges."
While the current crisis took center stage in his first few weeks as CEO, Hasbrouck has also been hard at work ensuring Meadows is ready to "bring care closer to home." He noted, "We are actively recruiting six physicians to this community right now. These physicians include specialists in general surgery, pediatrics, medical oncology, urology, and ENT. He emphasized, "It's not just about the hospital, the equipment or the team, but about medical professionals living in this community. We want to get them here and keep them here."
He noted, "My job is to make sure we sustain Meadows, and grow and provide additional services. We need to be the healthcare system of choice."
In listing his goals and objectives for the medical facility, Hasbrouck outlined the duties of the Memorial Health Meadows Hospital Advisory Board, which is comprised of community, healthcare, physician and hospital leaders. This Board has a fiduciary responsibility to manage the well being of the facility and community. Hasbrouck explained, "We go through a number of goals with our Advisory Board and they advise us based on their areas of expertise." This board is different than the Board of Trustees that was in place for the community-owned hospital, but the essence of the Board of Trustees is at the core of the Advisory Board, Hasbrouck added.
Hasbrouck referenced the healthcare organization's philosophy. "We look at it as building with six foundational pillars: people, quality, service, community, growth, and finance. We believe each of those pillars is equally important to hold up the foundation of this facility and instrumental in how we serve this community."
He said that over the past month he has met with individuals and groups within the community to hear about their healthcare expectations and to learn what Meadows means to them. For instance, Hasbrouck met with the leadership of Meadows Hospital Auxiliary, which is known for its volunteerism and support of the hospital through the years. "I was extremely impressed with what they have built and how they have served the community. I want to continue to invest in that and work with them. That will continue," Hasbrouck said, adding, "At the end of the day we are a servicebased organization."
Addressing the future of the Meadows Fitness Center, which closed as the first wave of COVID struck in 2020, Hasbrouck said, "We know how loved the fitness center has been in the community and we want to be able ensure folks have access to services like that. We are working very diligently to identify a partner to work with on reopening and operating the fitness center. It is a priority of mine." He noted, "Population health and wellness are near and dear to my heart and really, the mission of a healthcare center such as Meadows. We want to identify what we are doing well in terms of community health services and determine where we can add further support in the future. It is a priority that we are working on." Hasbrouck pointed out, "We have tremendous opportunity now as we partner with HCA Healthcare." The corporation's South Atlantic Division has a large presence in this area that includes a partnership with Memorial Health University Medical Center in Savannah. In turn, the Medical Center's medical school is in partnership with Mercer, which has a large graduate medical education department training the next physicians and providers.
Hasbrouck said he expects Meadows to be working with this resource in the future to provide access to people in the Meadows area, particularly around subspecialties that might include electrophysiology, gynecological oncology, and pediatric subspecialties. These subspecialties would complement the core specialty services that Meadows offers full-time locally. "The team here has done a tremendous job over the years and I think we now have access with our scale to extend that further."
Regarding the role of the hospital going forward, Hasbrouck enumerated three goals. "Number one is about investing in our people so we can provide top-notch health care. Secondly, to bring care closer to home, we need to bolster services we currently offer. We need to be sure we have the scale to serve this area."
He emphasized, "My family is here and I want to make sure when they need healthcare they stay right here. There will be situations when a higher level of care is needed that we don't provide and we want to make sure we get patients to a facility we trust to provide that level of care."
The third goal is threefold: superb quality, exceptional experience, and efficient service. "We have a beautiful facility here and we need to continue to invest in what we already have. That means not only keeping these facilities up to date, but continuing to acuitize our services to provide the latest and greatest."
In addition to bringing specialty and subspecialty care close to home, Hasbrouck would like to see more medical innovations at Meadows. "I have a passion for roboticallyassisted programs. That is an opportunity I see here in the future and certainly an attraction for surgeons that have been trained on these instruments and see a better outcome for their patients." Between additional capital equipment and clinical supplies, adjustments to staff wages, and facilities infrastructure Meadows has invested just over $7 million in the community in the last 90 days. "That is local and will be part of the economy here," Hasbrouck commented. "We are proud of Meadows and proud to be part of HCA. Trust in us. We are here to grow with and invest in this community."
Hasbrouck and his wife, Brianna, a certified fitness instructor who is active in early childhood development initiatives, have two daughters, Addison, 6, and Brynlee, 4. Since his arrival Hasbrouck has visited with local leaders in government and civic organizations and looks forward to becoming even more active in the community.
Hasbrouck is no stranger to the area. He was the COO at Memorial Health University Medical Center in Savannah since February 2018, when that facility transitioned to HCA Healthcare. He also served as the COO of Fairview Park Hospital in Dublin.
His leadership is responsible for driving numerous successes in Savannah, including: • Completion of
southeast Georgia's only freestanding Children's Hospital • Expansion of the
Heart & Vascular Tower
• Renovation of the
Behavioral Health Center
• Expansion of the ro botics program to the 2nd busiest in Georgia Hasbrouck assumed the CEO responsibilities at Meadows on July 5, succeeding Alan Kent, who retired after 21 years with the facility. Hasbrouck earned his bachelor's degree at the University of Minnesota and his Masters of Healthcare Administration at the University of North Carolina.
Memorial Health Meadows Hospital is a regional healthcare system featuring the only nationally-accredited hospital in Montgomery, Toombs, Treutlen and Tattnall counties. Meadows Hospital has a Level IV trauma center and emergency department, a 15,000-square-foot cancer center and a network of physician practices that serve Vidalia and the surrounding communities.
Meadows offers the latest in medical advancements including cutting-edge cancer care, life-saving heart attack procedures, women's services, wound care, orthopedic medicine and more.
"Meadows has invested just over $7 million in the community in the last 90 days. That is local and will be part of the economy here."
— Matt Hasbrouck