Posted on
MoCo BOE Opening Application Process For Superintendent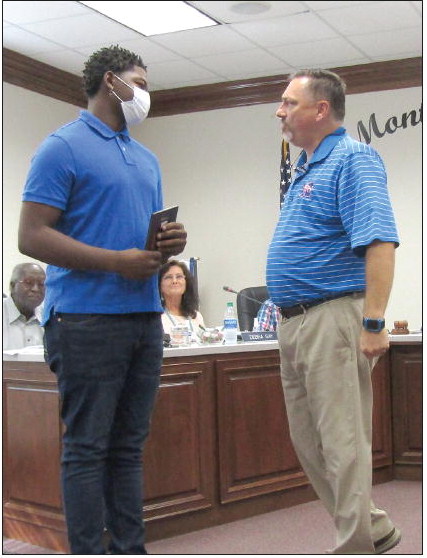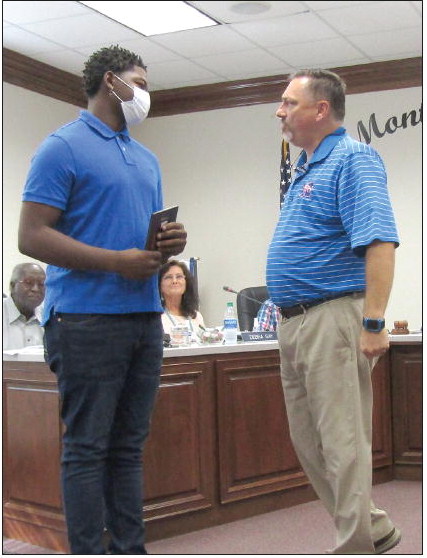 The Montgomery County Board of Education will open the application process for the Superintendent's position beginning July 1. The motion to open the process was presented in the Board's regular session on June 21 by Vice-Chairman Henry Price and seconded by Board member Susan Beard. The mo- continued from page
tion specified that Interim Superintendent Dr. Mark Davidson be allowed to apply for the position, along with any other qualified individuals.
The Superintendent's position was left vacant after Hugh Kite was terminated on March 18. The Board appointed Davidson as Interim Superintendent on March 22. Davidson, a retired educator, had been teaching at Montgomery County schools for the past four years.
Also during the June session, the Board acknowledged a Positive Athlete Award and the School System Nutrition Team Award.
Recent MCHS graduate Dre'on Jackson was recognized as the recipient of the Middle Georgia Region Positive Athlete Award for basketball. Jackson enhanced the MCHS Eagles basketball team tremendously during the past season, said Davidson, who noted that the award was well deserved.
"Dre'on exemplifies positive character and attitude on and off the court, and we look forward to all he will accomplish in the future," Davidson commented.
The school system received the Hunger Heroes award for its work in providing students with free lunches during the summer. This lunch provision is overseen by Regina Harris, who Davidson said is "incredibly efficient" at her task. The Board approved contracting with Georgia Power to replace the system's football stadium lights with modern LED lights. Along with this replacement, Georgia Power will add poles and lights to the baseball and softball fields. Davidson sought bids from various companies but informed the Board that Georgia Power was the "most economically advantageous." The project will be paid for through the ESPLOST fund.
The following personnel changes were approved: Kaci Rudd was moved from an elementary computer lab position to a 5th grade teaching position; Sheri Meriquinn was hired as a bus driver; and Regina Best was hired as a permanent bus monitor on the Special Education bus.
A spending resolution was also passed because the budget will not be approved in time to include the July expenses for the school. Board Chairman Jim Paul Poole said similar resolutions are passed every year.
Former Assistant Superintendent Marcee Pool reported on the Eagle Rally, an event that brings together educators from all areas of the school system to review data and to make new plans. Pool reported that 12 elementary educators and six educators from the middle and high schools were working to assess which areas of the curriculum succeeded and which areas need improvement.