Posted on
ROCK STARS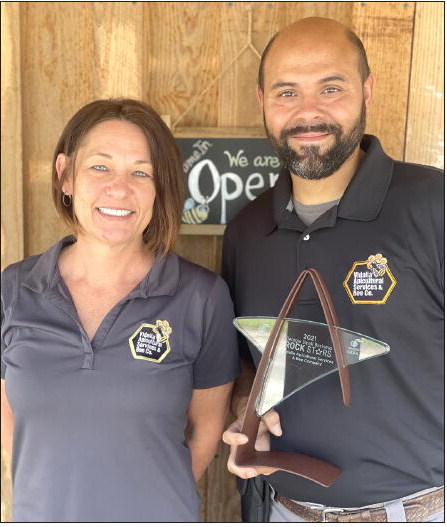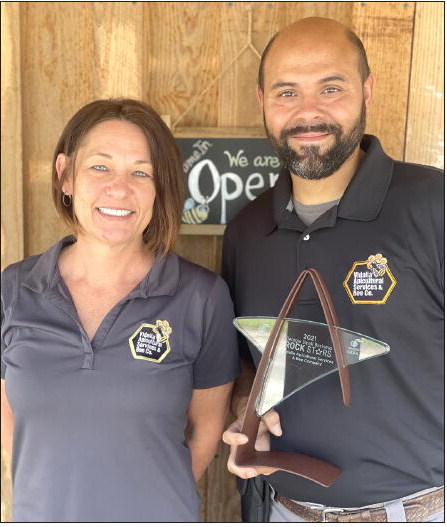 Vidalia Agricultural Services & Bee Co.
The Georgia Department of Economic Development (GDEcD) announced its six 2021 Small Business ROCK STARS as part of the state's celebration of Georgia Small Business Week (May 3-8). One of the six small businesses being recognized this year is the local Vidalia Agricultural Services and Bee Company. continued from page
The company's managing partners, Henry Price and Heather Davis, began their endeavor in 2012 with only 20 hives. By 2013, there were enough hives to pollinate significant acreage. Stanley Farms purchased over 200 hives for crop pollination, and Vidalia Agricultural Services maintained them.
Not only does VAS offer pollination services, but since 2016, they also sell packages. According to VAS's website, Stanley Farms sold much of their acreage in 2015, which made VAS's future pollination services uncertain. Because of this, Henry and Heather "decided to change the direction of the business and grow by selling more packages, nucs [honey bee colonies], and queens." The 2021 Pricing Guide provided on their website specifies the type of bees they offer (Italians, Russian Hybrids, and Carniolans), various quantity options, and their package prices. VAS also bottles honey to sell from 2 ounce bottles to gallon size, beekeeping gear and necessary clothing, handmade cosmetics with a honey base, gift baskets, as well as other custom gift options. Today, VAS has grown to be one of the top three commercial apiaries in the state of Georgia. The company website describes both Henry and Heather's professional background and how they came about developing Vidalia Agricultural Services and Bee Company. The website also provides a list of where their honey can be bought locally. Visit vidaliabee.com for more information about this "ROCK STAR" business.
"Small businesses take risks, create opportunities, supply incomes, generate ideas, and make sizeable impacts on their communities," said Governor Kemp. "I couldn't be more proud to celebrate the state's six Small Business ROCK STARS this year, and I extend my sincerest thanks to all of them for their hard work and dedication."
"Our Small Business ROCK STARS reflect the charm and community spirit found in every corner of the state," said GDEcD Commissioner Pat Wilson. It is an honor for Toombs County to have Henry and Heather in our little corner of Georgia.