Posted on
Mrs. Helen Darby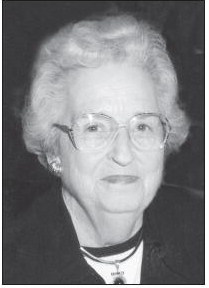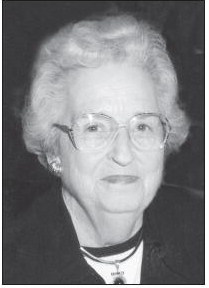 Mrs. Helen Darby
One hundred and two years old, by itself, is an exceptional life, but Helen Threlkeld Darby was a centenarian matriarch of enormous generosity to this community, to her loving family, to her church, to her friends, and always to those who were in need and less fortunate than she. Her devotion spanned several generations and touched so many lives. Although honored as Lady of the Year in 1983, Helen never sought attention, recognition, or reward for her actions and, too numerous to mention, so many of her actions were given with joy anonymously. Over the years, when people were asked to describe the kind of woman she was, the responses were always consistent – she was caring, loving, sincere, quiet, charming, a dedicated wife, mother, grandmother, and a devout Christian servant. These qualities are blessings from God and are worth more than titles and public accolades. She was determined to make the lives of all the people she met happier. Helen Darby died peacefully at home Wednesday evening January 27, 2021.
Helen was born on July 7, 1918, in Zirkle, Georgia, and shortly thereafter moved to Vidalia. She grew up during the Great Depression and her playground was the dirt and tree lined streets of Vidalia. Despite the depression, she always said this little town was the most wonderful place to be a child. She began piano lessons in the first grade and the piano and organ were lifetime companions. She went to Brewton-Parker College for one year and then received a Working-Scholarship in Piano at Shorter College in Rome, Georgia. The music faculty spoke of her as a "truly talented" student and she was recognized for her work which frequently included accompanying other students at their Senior Recitals. Helen graduated in 1938 and brought her talents home to Vidalia.
Helen Threlkeld married James Darby in 1940 and joined the Vidalia First United Methodist Church. The Pastor immediately noticed her exceptional talent and that began her 40year tenure as the church organist. There were very few congregants whose lives were not personally touched by her gift. Over the years she devotedly played for the choir, services, weddings, funerals, baptisms, and special holiday choral programs. She would readily admit her job was made easier by the constant musical companionship of her longtime friend, Barron Godbee. In 1986 the Church first recognized her by dedicating the new sanctuary organ in her honor for her music ministry. Then again in 2002, in the newly renovated church, the congregation honored Helen by naming the music facility the Helen T. Darby Choir Room. Helen's work at VFUMC was not limited to the music programs. She was responsible for initiating the Chrismon Trees that still beautifully sit at the front of the sanctuary every Christmas. She led many fundraising programs, including educational programs and missions. She served on the Board of Trustees and was chairwoman for many committees and boards. She truly was a matriarch in the life of the church.
At the time of her death, Helen was matriarch to both the Darby family and the Threlkeld family. She was stalwart to those families and to her friends. Her strength and her loyalty were tendered by her humor and fun-loving spirit. To her daughter, Helen instilled a love of adventure, fun, and travel, but primarily she was the role model of devotion and service. To her grandchildren, she left remembrances of the "great times" they always shared with her. When they visited, she was never too busy for them, and she always had their favorite things. One remembers the candy drawer and cooking together. Another remembers "Mema" playing the organ and everyone singing Christmas carols around it. Still another remembers she was always gracious and she lived life to the fullest. They all remember her roses and blueberries. They remember the beach and playing bridge, the lemon ice box cakes and her witty comments. They remember the fun of family reunions. They saw that she was unselfish in life and faithful to God. Helen made sure the entire family accompanied her every Christmas Eve to the Candlelight Service together. She loved her family and they loved her. Helen recognized kindness and she greatly appreciated the wonderful caregivers who stayed with her in her latter years.
Vidalia was also recipient of Helen Darby's good work. Implied in the Lady of the Year honor, Helen was community minded, community dedicated, and community committed. She was active in organizations of humanity in the American Cancer Society and Heart Association, in activities of community pride such as the Vidalia Beautification Commission, the Library Board, and the Pine Ridge Garden Club. She participated in activities benefitting youth such as the Girl Scouts and the Vidalia Recreation Board. She was involved with activities emphasizing the arts by supporting the Franklinia Playhouse, the Altama Gallery, ORCA, and the original Community Concert series. Helen was as visible as she was generous.
Helen was preceded in death by her husband of 51 years, James Franklin Darby, Jr.; her father and mother, H.A. Threlkeld and Lillian Brice Threlkeld; stepmother, Tiny Mann Threlkeld; two brothers, Howard Threlkeld (Polly), and Gene Threlkeld (Freddie); one sister, Joyce Moorman (Banks). She is survived by her daughter, Connie Darby Williams, and her husband Dick Williams; three grandchildren, Darby Williams Sands (Dale), Allen Williams (Ellen), Helen Williams Johnson (Ben); six great-grandchildren, Helen Sands, Ridley Sands, Charlotte Williams, Lanier Williams, Dudley Johnson, Warner Johnson; two brothers, Wade Threlkeld (Leigh), Reid Threlkeld (Sheri); and many nieces, nephews, and cousins.
A Memorial Service to pay respects to Helen will be held at a later date when conditions permit.
In lieu of flowers, donations may be made to the Music Program Vidalia First United Methodist Church (PO Box 150, Vidalia, GA 30475), Serenity Hospice Care (104 Maple Drive, Vidalia, GA 30474), Pinecrest Perpetual Cemetery Trust (PO Box 280, Vidalia, GA 30474).
Ronald V. Hall
FUNERAL HOME
'Memories, of a Lifetime of Love'
Full Paid Obituary