Posted on
Guarding Unity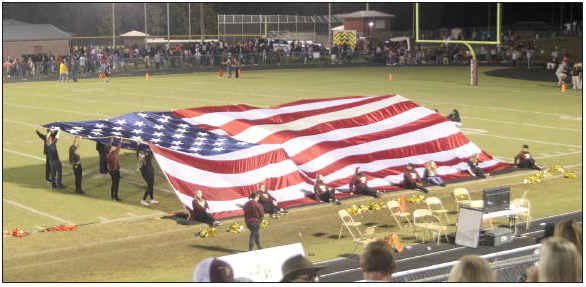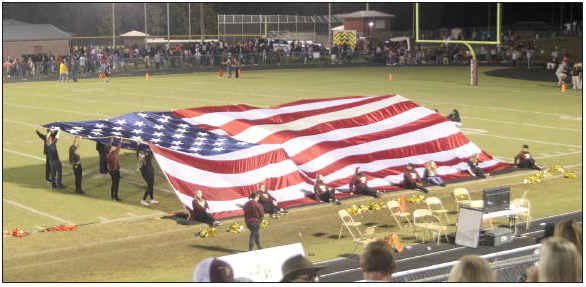 Firefighters Join JROTC to Present Colors at Rivalry Game
For a cross-county sports rivalry that spans a period longer than many people can remember, and in a year of a pandemic, a group of firefighters from different Toombs County departments decided a football game held in Vidalia last Friday night would be the perfect time to honor first responders and to add a show of unity at this usually intense competition.
Earlier this year, Vidalia Fire Department Captain and Chaplain Rob- continued from page
ert Tillman, and JROTC Senior Army Instructor Captain Carlos Ware talked about honoring first responders at a football game. With the unexpected events of the year, the plans evolved into a joint presentation of colors at the beginning of the Toombs County Bulldogs versus the Vidalia Indians football game. The goal is to have a bigger event next year to honor all first responders in the area.
Tillman is a member of the Fire Service Southeast Georgia Honor Guard, a group added in 2009 to the National Honor Guard Commanders Association. The mission of this Honor Guard Association is to ensure that firefighters who have lost their lives are honored and remembered at their funerals, and afterward, in support of the firefighters' families.
This Guard is not an out-front group looking for pats on the back, and a thank you, but they quietly show up to give honor and then retreat to the background.
Toombs County Fire and Rescue Lieutenant Jonas Blackwell also serves with Tillman in the SEGA Honor Guard. To present colors at this year's cross county game, VFD Firefighter Kristopher Owens and Lyons Fire Department Firefighter John Hammock were invited to complete the four firefighter members of the Honor Guard.
Tillman is pleased with "how the fire departments have grown from being separated to coming together." It took the assents of three fire chiefs, two city managers and a county manager to endorse the great opportunity to let all of them cooperate to form the Honor Guard for even a brief ceremony.
For JROTC Thunderbolt Instructor Captain Ware's part, he added SGT Trenton Corbett and PFC Jarvis Monereau from Toombs County High School, and C/LTC Rachael Craft and 2LT Hailey Tharpe from Montgomery County High School, as the student members to complete the Guard for the Presentation of Colors at the game.
Ware said, "It's a great representation of different departments coming together and showing unity in the community and representing such a big night during a rivalry game."
The JROTC Thunderbolt Regiment program, with instruction held at the Southeastern Early College and Career Academy, is composed of four schools: Montgomery, Toombs, Treutlen and Vidalia. Being in the game's Honor Guard is like coming full circle for Firefighter Owens. He was in the first four years of the Thunderbolt program, participating beyond the classroom's core disciplines to the extracurricular activities such as regional drill competitions. After graduating from Vidalia High School in 2014, Owens began his firefighting career as a volunteer and worked toward his certification. He now serves full-time in the Vidalia Fire Department while continuing to volunteer in smaller departments in neighboring counties.
There is a need for all communities to have citizens who are inspired to become first responders. Part of the focus of the JROTC program is to motivate young people to be career-ready citizens. Even when high school sports events are considered intense rivalries on the field, a community's camaraderie begins in its educational systems and grows leaders dedicated to serving others.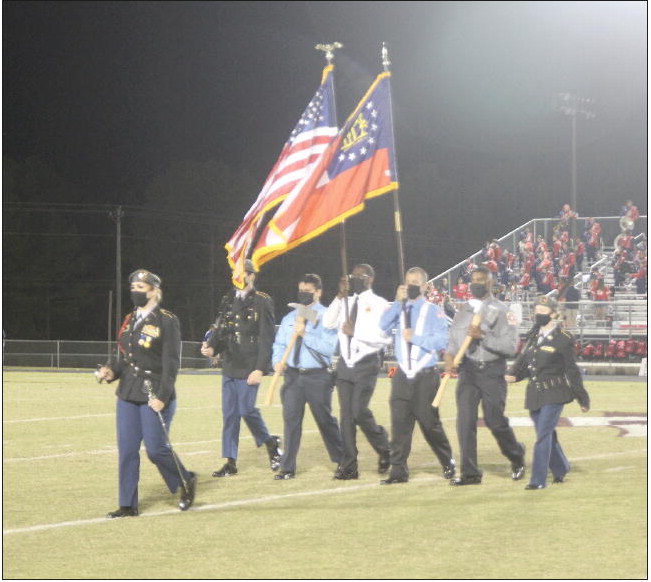 PRESENTING THE FLAG – JROTC Thunderbolt Regiment C/LTC Rachael Craft of Montgomery County High School commands the joint honor guard in presenting the colors at the Toombs County High School (TCHS) vs. Vidalia High School (VHS) football game. Behind Craft, left to right, are Thunderbolt SGT Trenton Corbett (TCHS), firefighters John Hammock, Lyons Fire Department, Capt. Robert Tillman, Vidalia Fire Department (VFD), Lt. Jonas Blackwell, Toombs County Fire and Rescue, Kristopher Owens (VFD), and Thunderbolt 2LT Hailey Tharpe (MCHS). Not pictured, PFC Jarvis Monereau (TCHS).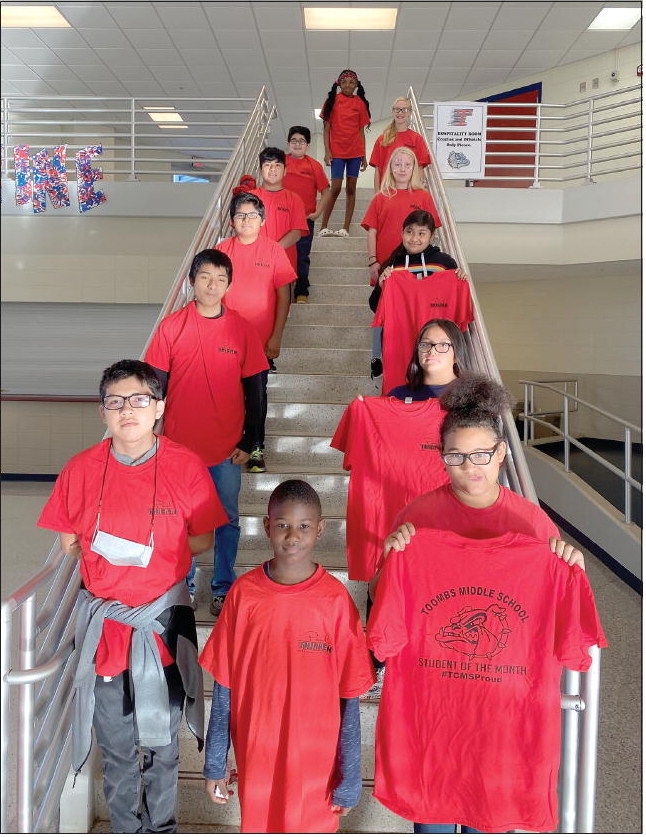 STUDENTS OF THE MONTH — Toombs County Middle School has announced October Students of the Month. Students are recognized based on good grades, attendance, and citizenship. Top row: Michaela Jones; Second row from the top: Jarian Lopez, Makenna Gardisser, Third row from the top: Erick Nahuaca, Sophie Kelly, Fourth row from the top: Richard Santiago, Jacqueline Gonzalez, Fifth row from the top: Emigdio Flores, Maite Lopez, Sixth row from the top: Rudy Zamorano, Jasmine Pierce, and the bottom row: Michael Thompson. Not pictured: Ammon Tippett.