Posted on
Toombs Volleyball Advances To Elite 8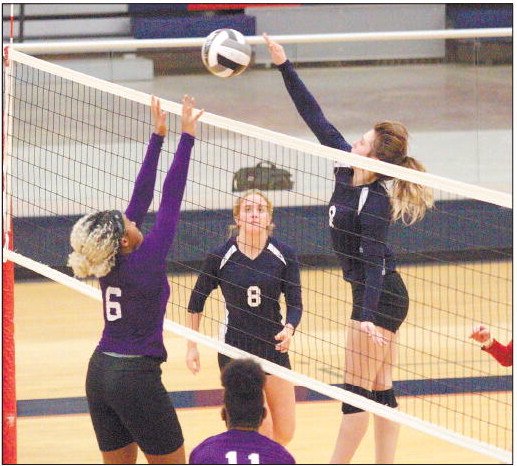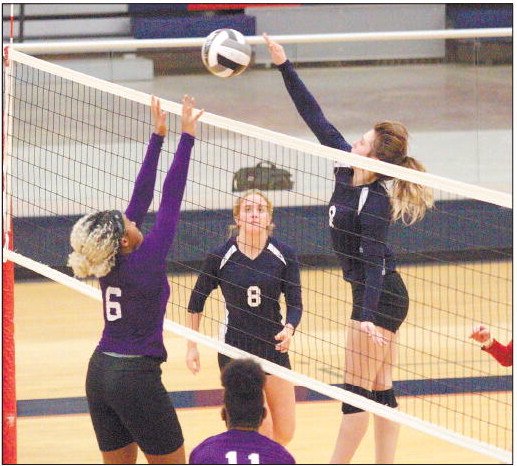 The Toombs County High School Bulldogs volleyball team are into the Elite 8 with wins over Johnson of Augusta and Thomasville last week. Toombs hosted Johnson on Wednesday and won the match in straight sets, but had to come back to win over Thomasville on the road on Saturday in a five-set match.
TCHS vs. Johnson
Toombs was the #2 seed out continued from page
of Area 3 and Johnson came in as the #3 seed from Area 2. Toombs was trailing 8-7 early in the first set, but tied it up at the halfway mark, 10-10. Coming out of the break Toombs was up 13-12. TCHS led 15-12 after a big spike by Zariah Newkirk, and it was 19-17 late in the set.
Toombs went on a run with Abbie Roberts serving to lead 24-19 with set point up. Toombs took the first set 25-19 to take the early lead in the match.
In the second game Toombs quickly was out 5-2, but Johnson tied it at 5-5. Toombs led 9-5 after four straight points on serve by Allie Roberts. Katie Perry served to a 16-6. Toombs kept pushing and took the second set 25-10.
In the third set it was all Bulldogs as they ran away with a 25-6 win to close out the match, 3-0.
TCHS vs. Thomasville
On Saturday Toombs was at Thomasville and battled their way to a win, and a place in the Elite 8. Thomasville was the #1 seed out of Area 1 with Toombs pulling the upset.
The first set was a barn burner and had to go to extra points as a team has to win by two. Toombs held on and got the win in the set, 27-25. Toombs fell in the next two sets, 15-25, 18-25, and things were not looking good for the Bulldogs as Thomasville had the momentum and needed just one more to end Toombs' season. But TCHS fought back in the fourth set to take a 25-23 win and force a fifth tie break set. Toombs outlasted Thomasville and won the deciding fifth set 15-10 to win the match and advance to the next round. Toombs will play Gordon Lee in the Elite 8 on Wednesday of this week on the road. Gordon Lee is the #1 seed from Area 7, and the #1 overall team in the state.