Posted on
Altama Museum and VCVB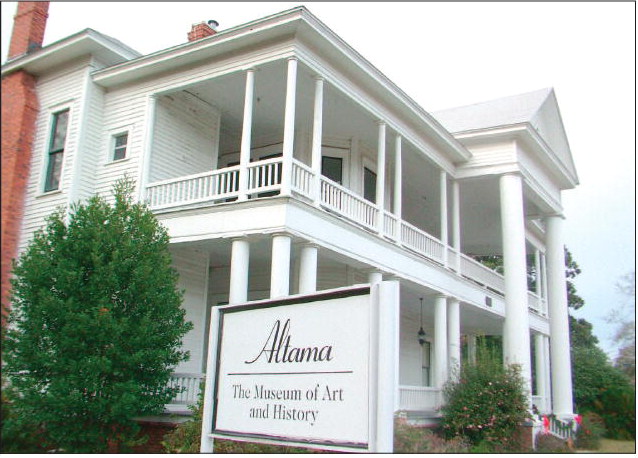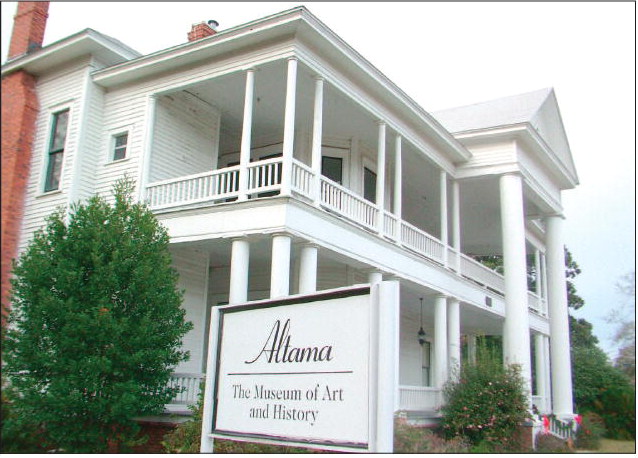 Recipients of $113,951 GCA Grant
Toombs County has been awarded $113, 951 by the Georgia Council for the Arts (GCA) through its Cultural Facilities and Vibrant Communities Grant program. The recipients are the Altama Museum of Art and History, which received $75,000, and the Vidalia Convention and Visitors Bureau, which garnered $38,951.
Jennifer Martinez, Director of the Altama Museum noted, 'We are extraordinarily grateful to Georgia Council for the Arts and the Georgia General Assembly for giving organizations such as ours this wonderful opportunity. Programming grants abound but vital brick-and-mortar grants are few and far between. After much hard work by many in the community, our organization is thrilled to receive $75,000 in funding to care for this local landmark. It was absolutely a team effort!'
Martinez said the Altama Museum's home, the 1911 Brazell House, will be undergoing a complete exterior revitalization over the next several months. Over the past few years, the building has endured infestation of wasps, a minor roof leak, exterior paint deterioration, as well as water incursion and wood rot in areas. "In addition, some foundational underpinning is necessary, windows need shoring up, and historical details have continued from page
become obscured, like the original 'haint blue' of porch ceilings and Widow's Walk on the roof," she said.
She noted, the safety and comfort of all museum guests is a high priority. To that end, an Adults with Disabilities Act-compliant restroom facility is planned, along with a new exterior accessibility ramp. Exterior lighting will be improved, and new codecompliant porch railings constructed and emergency systems upgraded throughout. Lead paint is present on much of the structure, so encapsulation is necessary. Closing gaps and sealing chimneys will deter pests from further nesting.
Because the building is listed on the National Register of Historic Places, special care and attention will be given to original architectural intent and materials. The goal is for all of these issues to be addressed in the scope of work and in accordance to architectural plans by Fred Dean of Dean Architecture and Design and Historic Register guidelines. To date, matching funds have been generously provided by Sweet Onion Classic, Georgia Power, the Sabel Foundation, and numerous private donors. Additional funds are still being sought.
The $38,951 awarded to the City of Vidalia Convention & Visitors Bureau will expand the sound and lighting systems in the PAL Theatre. The matching funds, $19,475.00, will be provided through the City of Vidalia SPLOST funds.
Convention and Visitors Bureau Executive Director Alexa Britton stated, "The sound and lighting systems installed in the theatre are basic systems that we planned to expand. This grant became available this year, so we put all the documents and bids together and applied."
She added, "We are so excited to have received the grant and thankful for the funds made available by the Georgia General Assembly, for the City's support of matching funds, for City Manager Nick Overstreet and Finance Director Bill Bedingfi eld for their guidance, and for the help from Michael Harden, Pal Manager, and Julie Busby, Pal Technical Director. Work will begin soon and should be completed by the end of January."
The sound system portion of the expansion project will include a new digital 32-channel board with full effects and a digital card, a digital snake, 4 new speakers, 2 subwoofers and 4 digital amplifi ers. A hearing assistance system will be added with a 10 hearing pack. This project will create better sound quality throughout the theatre, particularly in the balcony, and provide sound for the hearing impaired.
The lighting portion of the expansion project will include a new light board, 2 follow spot lights, 4 stage wash lights, 4 front of house wash lights, 6 moving lights for stage and audience wash, 2 scenic enhancement projector lights, and a 5500 lumen projector for digital backdrops. This project will provide more lighting for artists, front-ofstage lighting, the ability to project digital images behind the artists, create special lighting effects on the stage and in the theatre, and provide side follow spots for artists.
Seventy-seven entities in 58 counties will receive more than $585,000 in funding as part of this year's Vibrant Communities and Cultural Facilities grant awards. The Vibrant Communities Grant supports a variety of arts programming opportunities in communities, and the Cultural Facilities Grant supports the restoration or renovation of a building to be used for arts programming. GAC received 115 applications from arts organizations, schools, libraries, cities, historical societies, community theatres, Boys & Girls Clubs and more. The Vibrant Communities Grant is available to organizations in counties that did not receive a fiscal year 2021 Project, Partner or Arts Education Grant, and allowed applications to support online programming due to COVID-19. Cultural Facilities Grants are available to arts organizations for repairing, preserving or acquiring an arts facility, or for purchasing equipment. Following precedent set by the National Endowment for the Arts (NEA), the GAC used peer review panels to adjudicate applications. These panels included fellow professionals who are experienced in the arts discipline or type of grant being reviewed, or are Georgia citizens with a record of involvement in arts activities, experience and knowledge.
Georgia's creative industries have a reported $62.5 billion impact on the economy, generating roughly $37 billion in revenue and accounting for about 200,000 jobs in the state. GCA is a division of the Georgia Department of Economic Development whose mission is to cultivate the growth of vibrant, thriving Georgia communities through the arts. GCA provides grant funding, programs and services statewide that support the vital arts industry, preserve the state's cultural heritage, increase tourism and nurture strong communities. Funding for GAC is provided by appropriations from the Georgia General Assembly and the National Endowment for the Arts.