Posted on
Ronnie Turner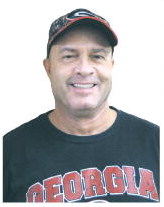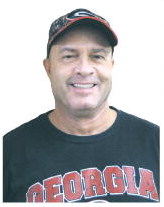 the SCOUTING REPORT
VHS Coaches And Athletes
Meant The World To Turner
Last Friday, as I watched some of the muscular and speedy athletes that Richmond Academy bought to Vidalia for the Indians' home opener warm up at Buck Cravey Stadium, I glanced into the stands. It was still an hour or so before kickoff, and the first thing I noticed was that Ronnie Turner wasn't in his usual seat. During the past few seasons, you could find Ronnie at every Indian game in the same seat.
I had known that Ronnie's health had been very frail for the last few years, so I commented to the usual sideline crew who gather early on the Vidalia bench, "I haven't seen Ronnie Turner yet."
That's when Chris Reeves, another of our group of sideline diehards, told me that Ronnie was in the hospital.
I said a little prayer for Ronnie in my head, and then got my camera ready. I really couldn't get Ronnie out of my thoughts though.
I also thought about some of the Ronnie stories I'd heard or witnessed in my lifetime.
Ronnie and Greg James, Vidalia's baseball coach who won two State Championships during his career at Vidalia, were very close friends. I always thought that friendship was good for Ronnie.
One time when I was over at Greg's house getting information, we were interrupted by a phone call.
Greg smiled and told me, "It's just my General Manager."
Of course, I could relate to Greg. I'd received my fair share of phone calls from Ronnie too, asking any number of questions about Vidalia, Georgia football and football recruiting, and the Braves and Falcons.
I remember driving through Atlanta on I-75 during baseball season in the continued from page
late 80's, listening to Skip Carey on the Braves' pregame call-in show.
I wasn't surprised at all when I heard Carey say, Okay, we've got Ronnie from Vidalia." Ronnie got a good bit of airtime that day with the voice of the Braves.
That wasn't the only time it happened. Ronnie was very knowledgable about basically any sport. The word "we" was synonomous with every team that he loved.
Since Georgia is playing Alabama this weekend, I can tell you that Ronnie would have called me asking if I thought "we" had a chance this weekend. I would know exactly who " we" was. He would have enjoyed what I expect to be a good game this year.
During Toombs County's 8-year winning streak in football over Vidalia (1994-2001), Ronnie was insufferable. I know he respected Mark Stroud, Toombs County's coach, and Keven Hill, Toombs County's Athletic Director at that time.
Stroud and Hill were the catalysts in that turnaround; and they were Ronnie's antagonists for those 8 long years.
When VHS finally broke this long drought, Ronnie and his mother celebrated by going to Huddle House, where they enjoyed their victory dinner sitting at the bar.
Ronnie later told me that Stroud and Hill had the same plans for dinner, and when the exhausted and beaten football coaches entered the restaurant, Ronnie swung around on his stool and gave them a, "How bout them Indians!!"
Ronnie Turner was a sports fan extraordinaire. In 2014, he won Mark Bradley's NCAA Bracket Fiasco in the Atlanta Jounal Constitution.
Ronnie, who was 57 at the time, picked 25 of the 32 second-round games correctly, 11 of the Sweet 16, and three of the Final Four.
His bracket was good enough to finish 305th in the national contest, which would place him among the top 99% of bracket pickers in the country. Whenever I used to see Ronnie around town, he'd introduce me to people by saying, "This is my friend John. We went to first grade together and we were both members of the Class of 74."
That's how I'll remember Ronnie Turner. He was one of the most knowledgable sports fans I ever knew and he was my friend. I'll miss my good friend. Dedicated to Mr. Indian, Ronnie Turner, who passed away on October 7, 2020 at the age of 64.