Posted on
TCHS Wins In Final Minute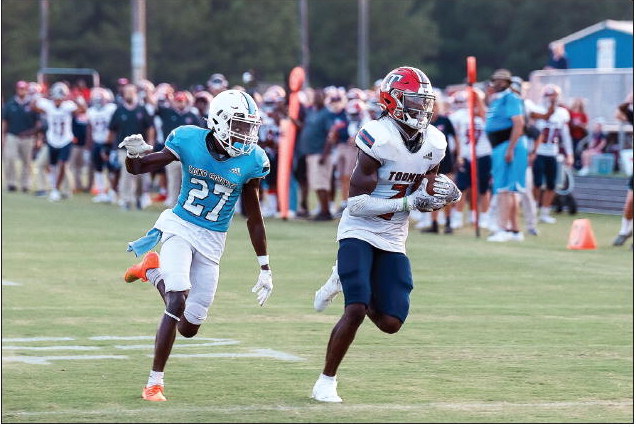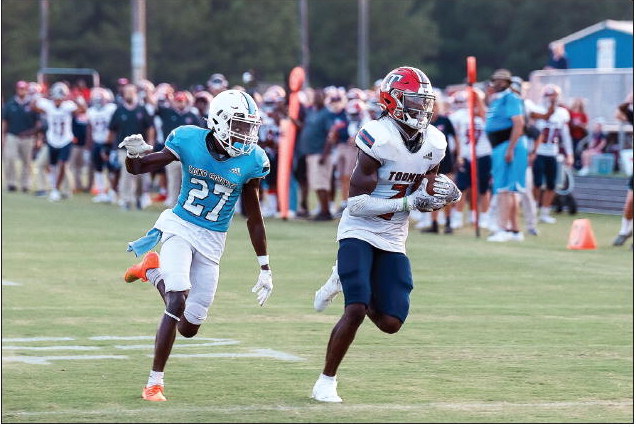 Courtesy of TCHS
On Friday Night, the Toombs County High School Bulldogs football team hit the road and traveled to Long County to open the 2023 Season.
The Dogs looked great early on, jumping on the Blue Tide on their first drive when Hayden Roy scampered 46 yards on the sixth play of the game for a Bulldog Touchdown. Senior Braylan Dietrich added the point after to give the Dogs a quick 7-0 lead with 9:17 left in the first quarter.
Long County, who is well known for their running game, surprised the Bulldogs with a couple of passing plays to drive down the field and score. The two-point conversion failed, and the Bulldogs held on to a 7-6 lead.
On Toombs County's next drive, Dabvin Wadley snuck in a 12-yard run, which was followed up two plays later with a 44 yard touchdown pass, when Junior QB TJ Stanley hit fellow Junior WR LaGonza Heyward. Dietrich again added the point after to give the dogs a 14-6 lead.
After forcing a Blue Tide punt, the Bulldogs added yet another score when Stanley hit Mike Polke on a 20-yard TD pass. Dietrich hit his third point after attempt to make it 21-6.
Long County added a long touchdown pass just before the half and converted a 2-point conversion to make the score 21-14 at the half.
In the second half, both defenses took control forcing punts and turnovers on downs. In the fourth quarter, Long County punched a touchdown in after blocking a Bulldog field goal attempt, and converted another 2-point conversion to take their first lead of the game, 22-21 with 5:24 remaining in the contest.
The Dogs, however, refused to quit, and Stanley orchestrated a come-frombehind score on the next drive. On this final drive, Stanley hit Sophomore Gavin Fletcher on two clutch passes of 13 and 25 yards. The critical play was a third and 19 when Fletcher snagged a 21 yard pass, using a second effort to get the first down for the Bulldogs. Two plays later Stanley connected on his third TD pass of the night, this one to Keshon Deloach with just 41 seconds left in the game. Deloach also caught continued from page
the 2 point play to give the Dogs the lead back, 29- 22.
Long County returned the ensuing kickoff back near the 50 yard line before a defensive surge led by Senior Brock Nobles, who finished the game on a QB sack. Toombs took the win, 2922, over Long.
Freshman Alex Scott finished the game with 8 tackles, 3 tackles for loss, and 2 QB sacks along with a forced fumble.
Next up for Toombs is Wheeler County in Alamo this Friday. Kickoff will be at 7:30 p.m. Wheeler won their season opener against GMC, 418, on Friday.