Posted on
Vidalia & Lyons 8U Go 1-2 At District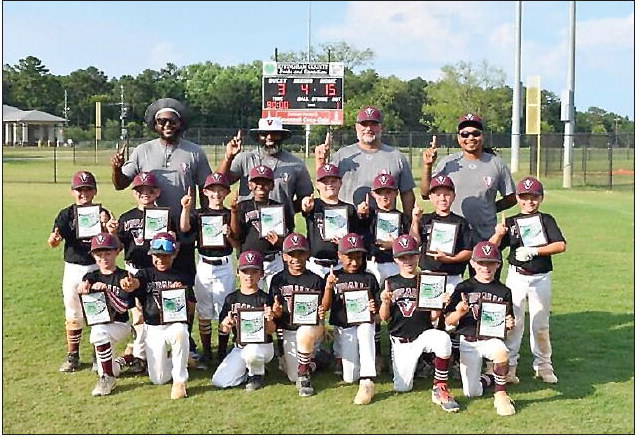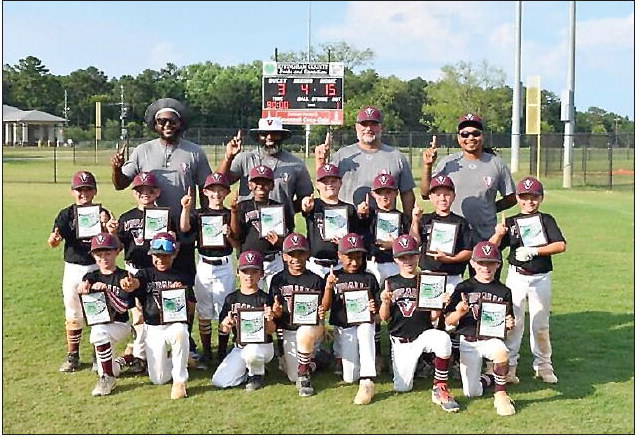 The 8U GRPA District 1 Baseball Tournament was held in Effingham County last week, and it saw Vidalia and Lyons battle for the Championship with Vidalia coming out on top. Both local teams will move on to the GRPA State Tournament which will be held next week in Effingham County.
In the first round Lyons kicked things off with an easy win over Rincon. Lyons rolled to a 26-0 victory to move to the second round. Vidalia #2 also picked up a win as they defeated Effingham County 17-9 to adavnce.
In the second round Lyons went up against Vidalia #1, who had a bye in the first round, with Vidalia coming out on top. VRD took the win 16-4 to move into the semifinals of the tournament. Vidalia #2 lost their game to Swainsboro, 24-19, in a high scoring contest.
In the losers' bracket Vidalia #2 beat Rincon, 18-4, to keep their hopes alive, and Lyons beat Effingham, 18-6, to advance. That put Lyons and Vidalia #2
VRD 1st Place – (L to R, Front): Bryson Taylor, Blaze Boston, Chance Woodruff, Fredrick Fondren, Brody Boston, Kellen NeSmith, Hatcher Williams; (Middle): Mason Zorn, Hawk Jernigan, Jackson Beasley, Jaxson Snead, Brayson "Ham" Henry, Brock Page, Grayson McDade, Max Sasser; (Back): Coaches Jas Snead, Brandon Boston, Chuck Page, Fred Fondren. 8U
continued from page 1B
against each other in the next round. Lyons took the close battle by just one run, 16-15.
That put Lyons in the semifinals of the losers' bracket against Swainsboro, whom Vidalia #1 beat in the semifinals of the winners' bracket, 15-0. Lyons won that game, 15-2, to get a rematch with Vidalia #1.
In the Championship Game Vidalia took the win, 15-3, over Lyons to claim the Championship. With the one, two, finish both teams will advance to the State Tournament.
LRD 2nd Place – (L to R, Front): Bentley Baxley, Christian Trevino, Kolton Smith, Knox Smith, Emmitt Nabb, Rocky Mitchell, Drake Brewer, Keaton Williamson, Carter Brown, Bentley Poole,Maddox McDaniel, Carson Coursey,Kelton Lynn,Ayden McCloud,Miles Locke; (Back): Coaches Nathan Coursey, Matt Lynn, Matt Grantham, and Jeremy Williamson.