Posted on
Eagles Fall To Bryan Co.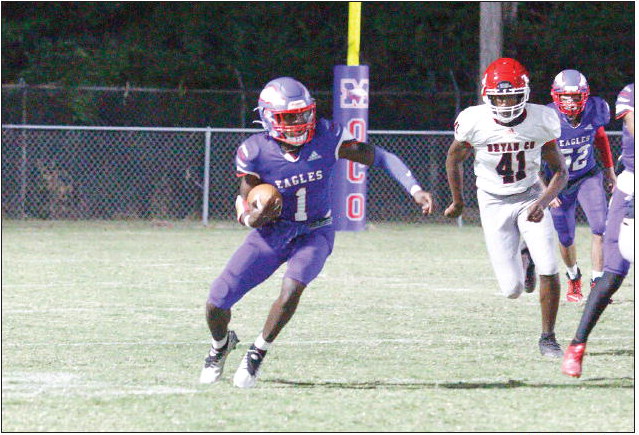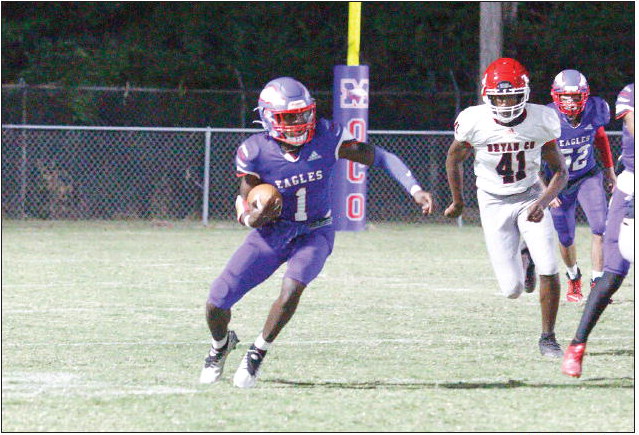 The Eagles football team of Montgomery County High School moved their home game against the Redskins of Bryan County to Wednesday of last week due to the threat of Hurricane Ian. It was a tough night for MCHS as they dropped the nonregion game.
About halfway through the first quarter of the game the Eagles forced Bryan to punt the ball. MCHS took over near the 15-yard line, but just a few plays later disaster struck as they snap sailed over quarterback Cameron Wallace's head and was recovered by the Redskins in the end zone for a touchdown with 6:24 left in the continued from page
quarter. They failed on the two-point conversion but held a 6-0 lead.
After the ensuing kickoff the Eagles did get the ball out to midfield. Wallace went to the 43 and then a pass from Wallace to Demetrius Brooker moved the ball to the 26-yard line of Bryan. Jamarion Henderson pushed it to the 18-yard line on the final play of the first quarter.
At the start of the second MCHS stalled and turned the ball over on downs to the Redskins. Bryan began to move the ball with a couple of big plays made it all the way to the Eagles 25-yard line with just over eight minutes to play in the half. They capped off the drive with 6:12 to play with a 3-yard run. They added the twopoint conversion to take a 14-0 lead over the Eagles.
The Eagles did manage to get into the end zone before