Posted on
Eagles Over Vikings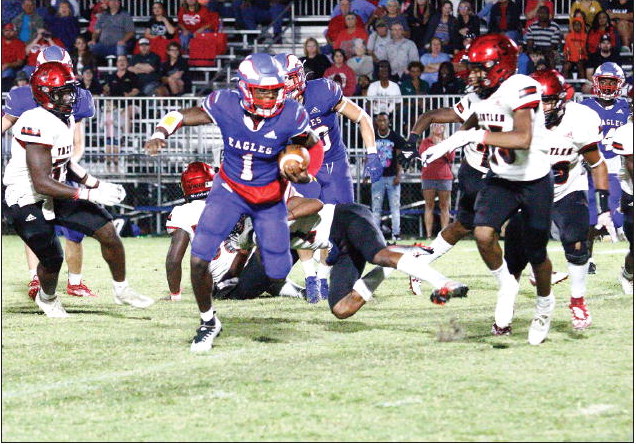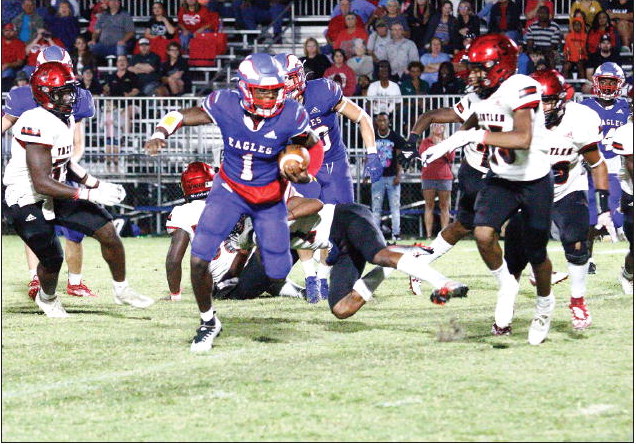 The Montgomery County High School Eagles football team played host to the Vikings of Treutlen County last Friday night in Mt. Vernon. It was a close game in the first half before the Eagles pulled away for the win.
The Eagles got on the board first with a touchdown and extra point in the first quarter of the game.
In the second quarter of the game the Vikings had moved the ball all the way to the Eagles' 6-yard line with several big runs by Qamar Jordan. But Treutlen fumbled the ball and the Eagles' Ethan Price came up with it to keep Treutlen out of the end zone.
But just two plays later the Vikings dropped MCHS in the end zone for a safety. That closed the lead to 7-2. After the kickoff from the safety, the Vikings began their next drive at the MCHS 47yard line. Jordan again had a couple of big runs down to the 9-yard line. Jodan took it from there for the touchdown. With the 2-point conversion, Treutlen led the Eagles 10-7.
MCHS moved the ball well after the ensuing kickoff and capped off the drive with a pass from Cameron Wallace to Darius Wells with just 14 seconds left in the first half of the game. With the extra point from Mario Ortega, the Eagles continued from page
went back on top 14-10.
In the third quarter with less than two minutes on the clock, Wallace broke free for a 40-yard run to add to the Eagles' lead. With the PAT Montgomery was on top 21-10.
The Eagles scored one more time in the fourth quarter as Wallace again had a rushing touchdown. With the Ortega extra point, it was a 28-10 lead for MCHS. The Eagles held on to win the game by that score.
Wallace rushed for 205 yards and three touchdowns on 12 carries, was 3-of-9 passing for 48 yards and a touchdown, intercepted a pass and had nine tackles, two for losses, in the 28-10 victory over Treutlen. The Montgomery County School System announced its delay of homecoming activities until October 10-14 to ensure student safety amidst pending inclement weather. The homecoming game, which was originally scheduled to be played against Bryan County on Friday night, September 30, will now be played on Friday, October 14, against McIntosh County Academy. This week's game against Bryan County has now been moved up to Wednesday, September 28, at 7:30 p.m. at Brogdon Field.
All homecoming activities, including dress-up days, float construction, parade, and crowning have also been postponed until October 10-14.
Treutlen will play in Rochelle against Wilcox County this week, but that game has been moved to Thursday evening at 7:30 p.m.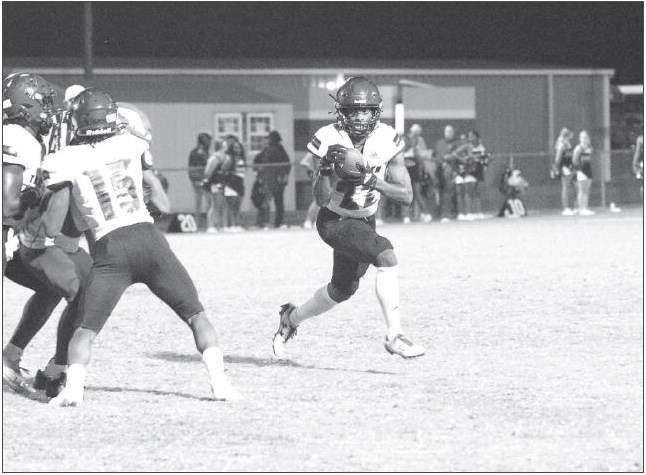 Rod Fuller tries to find an open running lane in the first half for the Vikings of Treutlen as they battled with the Eagles of Montgomery County.Photo by Mike Branch