Posted on
Homecoming At MCHS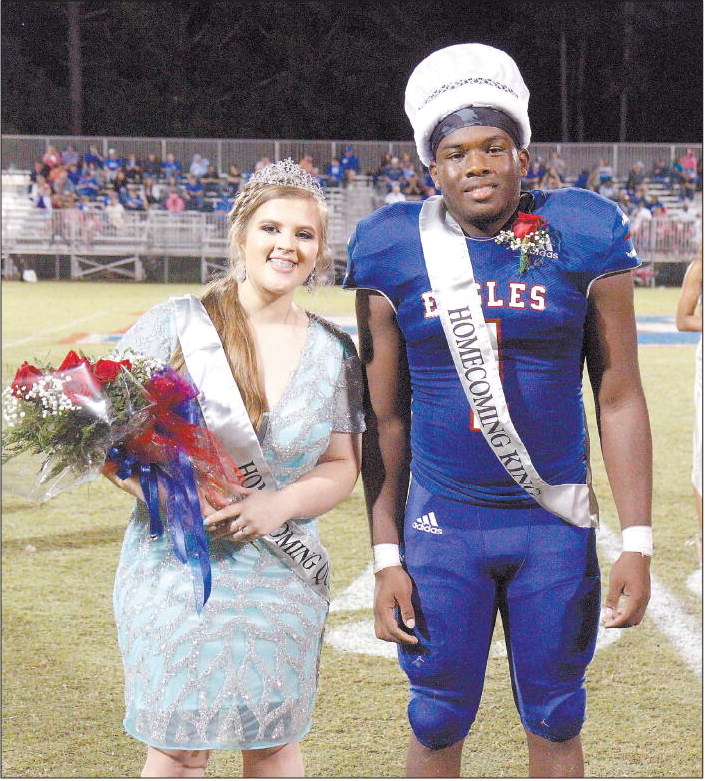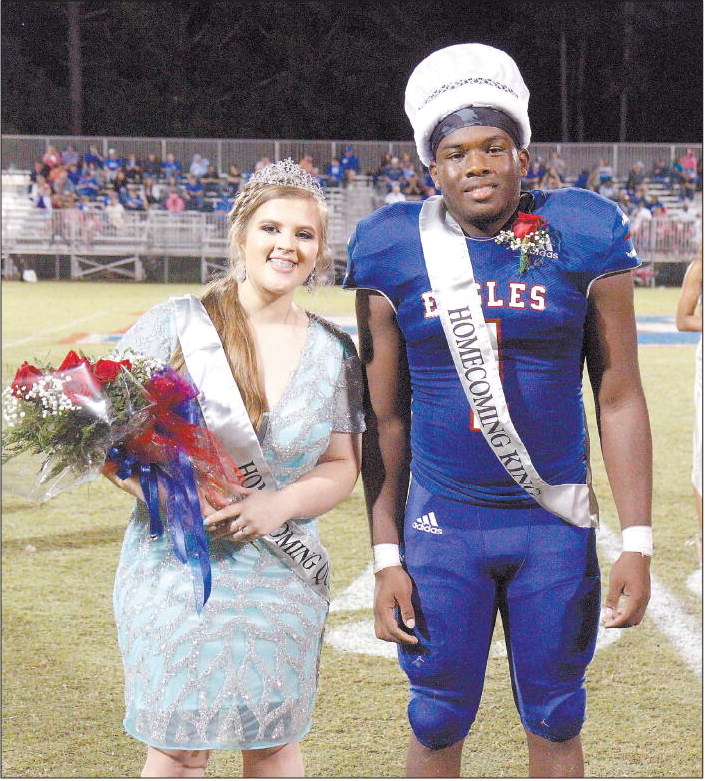 It was Homecoming at Montgomery County High School on Friday of last week s they hosted the Trojans of Johnson County. The Trojans spoiled the night for the Eagles as they came away with the win, 28-13.
During halftime of the game the Eagles crowned a new King and Queen for Homecoming 2020. Kristian Boyer was named a King and Pearl Scott was crowned Homecoming Queen.
Johnson got things started with an onside kick that they recovered near midfield. They quickly moved it down to the MCHS 25-yard line and then got a first down at the 15. A penalty moved them back, but with just under five minutes to go they punched it in for the touchdown. They added the PAT for a 7-0 lead on MCHS.
Johnson went for another onside kick, but Xavier Brantley scooped it up and took it across midfield to the Johnson 40-yard line. Two plays later the Eagles were in the end zone on a pass from Bo Davidson to Brantley with 3:55 to go in the first. Mario Ortega added the extra point to tie the game at 7-7.
MCHS then tried and onside kick, but Johnson was expecting it and took the ball at the 50-yard line. At the end of the first quarter Johnson was driving and down to the 24-yard line. On the first play of the second quarter the Trojans took it in from there for the touchdown. They added the extra point for a 14-7 lead.
Th Eagles started their next drive at their 32-yard line. Boyer rushed it to the 44, and then two penalties against Johnson moved MCHS across midfield to the 42 of the Trojans. A big run by Davidson took it to the 23, and just a few plays later the Eagles were in the end zone on a 20-yard pass to Brantley. MCHS tried a two-point conversion, but did not get it and trailed 14-13 with 7:48 left in the first half.
Johnson was driving after the ensuing kickoff, and had a first down a the 36 of MCHS with 2:57 on the clock. And they again found the end zone, this time on a 32yard run with just under two minutes to play in the half. With the PAT the Trojans were on top 21-13, which was the score going to halftime.
In the second half of the game only one more touchdown was scored by either team with the Trojans picking one up as they took the win 28-13 over the Eagles.
MCHS is now 4-2 overall and are 3-2 in Region play. This week MCHS will be in McRae to take on Telfair County in a Region contest with kickoff at 7:30 p.m.