Posted on
VHS Volleyball Wins Area Title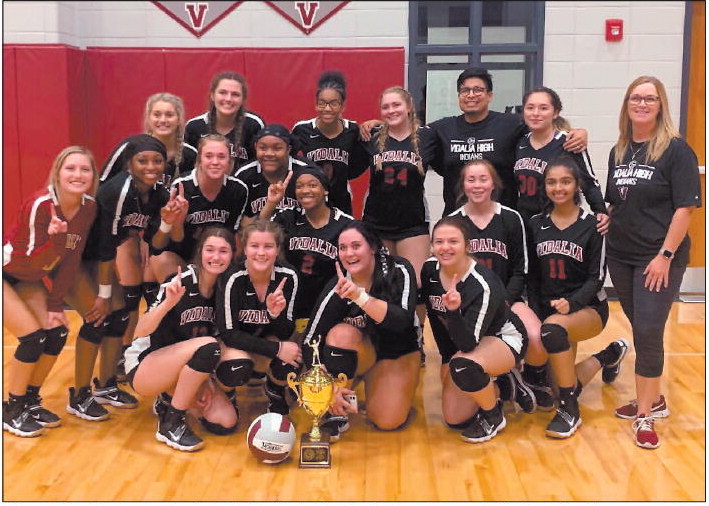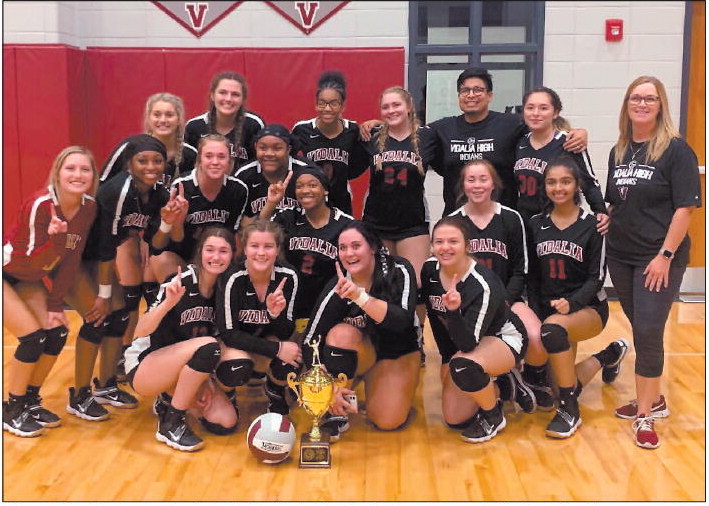 Despite playing Varsity competitively for only two years, the Vidalia High School Indians volleyball team claimed the Area 3 (A/ AA) Championship Saturday at Parsons-Reid Gymnasium. The Indians, who came into the tournament as the number one seed, lost only one game in the single-elimination tournament and will now head into the State Tournament as a number one seed.
Vidalia opened up the Tournament with a bye and drew A/AA powerhouse Woodville-Tompkins that had reached the semifinals by knocking off McIntosh County Academy in three straight games.
That set up a much-anticipated showdown between the Indians and the Wolverines, a team Vidalia had never beaten.
"We knew going in that we would probably have to face Woodville," said VHS Head Coach Sandi Calloway, "but our girls were up for the challenge and actually welcomed it. They have been working hard since the first of June, and they have been committed to being Area Champs since the beginning of the year."
After splitting the first 4 games with Woodville -Tompkins, that dream looked like it may have to wait for another time, as VHS found themselves down 10-5 at one point in the deciding game 5. But a massive comeback by Vidalia in which they outscored Woodville 11-4 down the stretch, provided for an exciting finish as Vidalia took the last point for a 16-14 win.
VHS then took on rival Toombs County in the Championship Match. Toombs reached the finals by defeating Dublin in the semifinals. It was the 4th meeting of the season, with the Indians taking the previous three matches without losing a game to their cross-county rivals.
`The fourth time was no different as VHS took the Championship Match in three straight games 25-16, 27-25 and 25-23 giving the Lady Indians the Area 3 title.
After the game, Calloway showered her team with praise, "I cannot say enough about these girls and their determination. They believed from the beginning that the Area Championship was rightfully theirs, and even when they were backed into a corner, they never stopped fighting."
The Indians will now host the #4 seed from Area 2 in the first round of the GHSA Tournament on Wednesday, October 21, with a time to be determined.