Posted on
Galloway Scholarship Awarded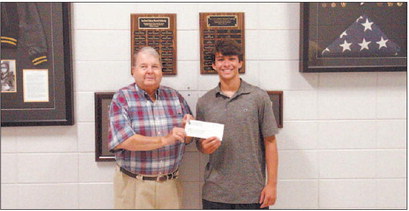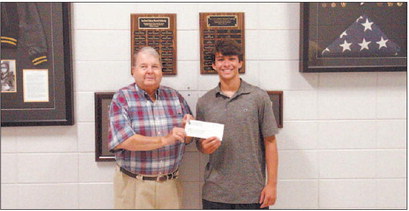 A scholarship honoring a man who died in service to his country was recently presented to a senior at Vidalia High School.
The 2020 Sam Galloway Memorial Scholarship was presented to Luke Perry. Perry is going to Georgia Southern University pursuing a career in Engineering.
"I have walked by the memorial for Mr. Galloway every day at school, and I have had family that has been in the military so this scholarship stood out to me. I am very thankful for receiving this award, and it is definitely going to help out. I want to thank all of my teachers and the people that have helped me get through high school and to this point."
Billy Snell, a former contemporary of continued from page
Galloway and who played on the same football team in high school, presented the check to Perry. Snell said, "All of our classmates thought a lot of Sammy. We are pleased that we can carry on his legacy through these scholarships."
The Committee that awards the Sam Galloway Memorial Scholarship is made up of members who were all classmates of the soldier. Each year the committee members donate enough money to award the scholarship so that the seed money can remain in escrow and be available for the scholarships to continue for many years into the future, according to Snell. The Sam Galloway Memorial Scholarship was created by Galloway's late mother, and later renewed after her death by his fellow classmates of the class of 1962 at Vidalia High School.
Second Lieutenant Galloway was killed in January 1968 in Vietnam during the Tet Offensive, while serving as a soldier in the United States Army. He was posthumously awarded the Purple Heart, National Service Medal, Vietnam Service Medal, The Republic of Vietnam Service Medal and The Distinguished Service Cross. A shadowbox is hung on the wall of Vidalia High School with his medals, the flag that draped his casket, and his letterman jacket from his alma mater.
Second Lieutenant Galloway was interred in Pinecrest Cemetery in Vidalia with full military rites. Twenty-six years later, his remains were reinterred at Arlington National Cemetery in Washington, D.C.